Tillman Welding Safety Equipment
Wearing protective safety equipment is crucial when you are welding. The two most important areas to protect when welding are your eyes and hands. There are a range of welding helmets available online, and below is are a selection of safety gloves and clothing from Tillman.
Tillman Welding Gloves
Tillman make some of the most comfortable, durable and effective gloves in the welding industry. They pride themselves on their ability to protect your hands from hot surfaces, sparks, sharp edges and radiation. Take a look at some of their popular products below.
1. 

Tillman 50 MIG Welding Glove, Pearl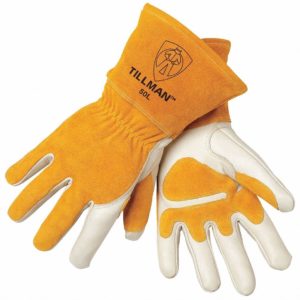 Make: 50M/50L
Weight: 10.6oz/11.4oz
Color: White & Tan
Material: Leather Cowhide & Fleece Lining
One of the immediate features of this glove it that there's plenty of dexterity and comfort. Fleece lined makes them comfortable and it also adds extra protection. The cowhide palm is long lasting with strong reinforcements, however, the soft leather can struggle a bit with higher heats so don't use this for stick welding. This is also available at a great value price, which is why it's one of Tillman's most popular gloves.
2. Tillman 24CL Premium Top Grain Pearl Kidskin MIG/TIG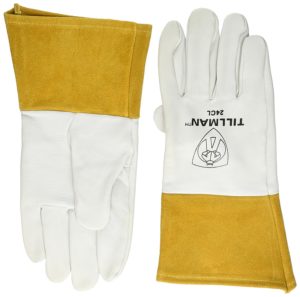 Make: 24CL
Weight: 1lb
Color: White & Tan
Material: Kidskin Leather
These quality gloves are made from premium top grain goatskin. You won't feel heat for MIG welding but you'll feel a bit of heat if you decide to use these for stick welding. There's no lining to these, which helps if you're using these for TIG welding because the dexterity is slightly increased. There's also a straight thumb to improve gun grip, so these are best suited for TIG welding.
3. 

Tillman 875L Premium Top Grain Elk Welding Gloves – Large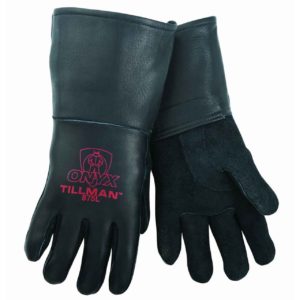 Make: 875L
Color: Black
Size: Large
Material: Elkskin
I really love this pair of gloves, I like the finish and they perform exceptionally for both dexterity and protection with a great fit. The elkskin is super heat resistant, especially considering how thin it is, so you'll be fine using this for either TIG, stick or MIG welding. They're only slightly more expensive that the 50L and 24L and I'd definitely recommend these for the price.
4. Tillman 822L Leather and Aluminized Kevlar Aluminized Welding Glove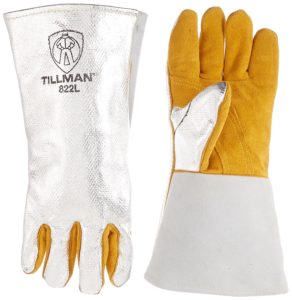 Make: 822L
Color: Silver & Tan
Size: Large
Material: Leather & Aluminized Kevlar Back with Wool Lining.
These gloves are designed primarily with heat resistance in mind. The aluminized carbon back is designed to reflect heat of up to 1500F and resist spatter. There's also wool lining for added comfort and insulation and a cowhide palm t0 further add to the quality and insulation of this glove. The only downfall of this glove is that the dexterity is limited so I don't recommend them for TIG welding.
Tillman Welding Clothing
Tillman have a selection of welding clothing which ranges from premium leather garments to cotton and aluminized. Below are some of our favorites.
1. Tillman 6230-M Lightweight 30″ Green Jacket Flame Retardant Cotton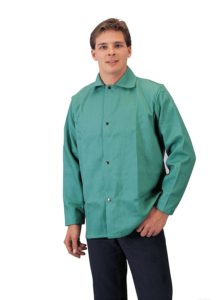 This flame retardant jacket from Tillman is excellent value and made from 100% Whipcord flame retardant fabric. It's a comfortable jacket that's lightweight with snap fasteners and is machine washable. The jacket has excellent durability and is designed not to shrink, melt or drip molten residues as it self extinguishes when exposed to flames and sparks. It will also maintain this resistance from flames for up to 50 home washes.
2. Tillman Leather Apron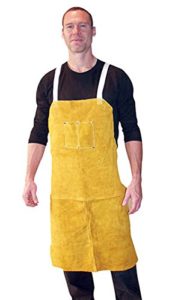 Tillman leather aprons are a fantastic addition to your welding safety clothing wardrobe. It's available as a 24″ x 24″ waist apron and a 24″ x 36″ bib apron. They're made of cowhide leather and sewn with Kevlar thread which makes them a durable option for protecting yourself from spaks and flames.