Best Welding Gloves for TIG, Stick & MIG
Welding without wearing gloves is extremely dangerous. When you're welding you'll be working at extreme temperatures so you need to protect your hand from sparks, UV radiation, sharp edges, molten metal, electrical hazards, heat, flames and more. Updated Feb 11th 2020
It's also dangerous to weld with the wrong type of glove. Maybe you've got some gardening gloves that fit you well and protect you in the garden that you're thinking ok wearing, well don't! Welding gloves need to be able to withstand extreme temperatures.
We've chosen the best welding gloves made from the best quality materials that are suited to different applications. Click the links below to quick jump to the best glove for each weldign application and check out the buyer's guide below.
Best MIG Welding Gloves
Do not require the dexterity of TIG gloves so will be a bit thicker and offer more protection. Requires less heat protection than stick welding. Usually made from Pig, deer or cow hides for protection along with high durability. MIG gloves tend to be a bit thicker with more insulation. Sometimes they'll have extra padding on the back of the hands which allows for more comfortable bracing of your dominant hand.
1. Tillman 875L Premium Top Grain Elkskin MIG Welding Gloves - TOP PICK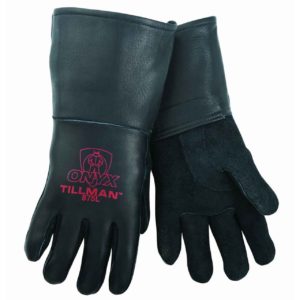 1. Brand: Tillman
2. Welding Process: MIG/TIG/Stick
3. Material: Elkskin
4. Lining: Cotton/Foam
These Tillman gloves are made from top grain Elkskin, making them soft, extremely heat resistant and giving them great dexterity. The palm is unlined but the back is cotton/foam lined for comfort and heat protection and it's all sewn together with Kevlar thread. These gloves hold up really well to long MIG welds with no shrinkage and are a great fit. They're versatile and their great dexterity and heat resistance means you can use them for MIG, TIG or STICK, all whilst being supremely comfortable.
2. Black Stallion Pigskin MIG Welding Gloves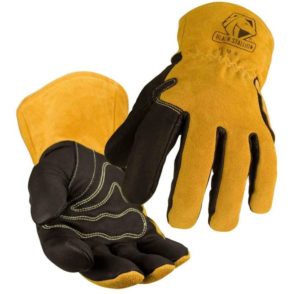 1. Brand: Black Stallion
2. Welding Process: MIG
3. Material: Pigskin/Cowhide
4. Lining: Cotton/Foam
Black Stallion are a reliable brand and these MIG gloves are some of the best on the market at an affordable price. The palm is made from premium pigskin, whilst the back and gauntlet cuff are made from split cowhide. These gloves have a good thickness for heat protection but they still offer a good amount of dexterity, although not enough to make them suitable for TIG. These are really comfortable with cotton lining and the rounded fingers fit nicely over your fingers. They're flame retardant, with a drag patch and Kevlar stitching to give them durability, too.
3. Steiner 21923-L MIG Welding Gloves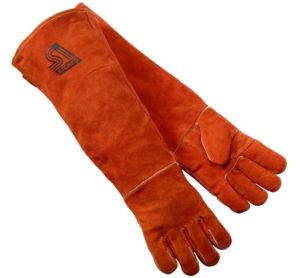 1. Brand: Steiner
2. Welding Process: MIG
3. Material: Cowhide
4. Lining: Foam
The burnt orange Steiner welding gloves are notable for their extra forearm protection.They are 23 inches long so they go right up your arm past your elbow to offer you maximum protection from sparks and radiation. They're really comfortable with full cotton lining and a foam insulated back for extra protection. They're made from shoulder split cowhide and the seams are fully welted for durability. They'll offer comfort and protection for MIG welding.
4. Tillman 50XL Top Grain Leather MIG Welding Gloves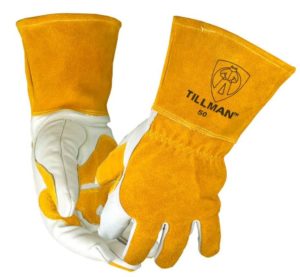 1. Brand: Tillman
2. Welding Process: MIG
3. Material: Cowhide
4. Lining: Fleece
Tillman made very good quality gloves at a great price. These MIG gloves form a comfortable fit for your hands with an elastic back and are a great choice for MIG welding. They're made from top grain cowhide and split leather palm reinforcements. The forefinger is seamless to help for durability. They have a fleece lining for extra protection and more comfort. These are a solid and comfortable choice for MIG welding available at a good price.
5. Lincoln Electric Traditional 14 Inch MIG Welding Gloves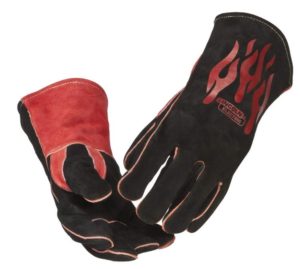 1. Brand: Lincoln Electric
2. Welding Process: MIG
3. Material: Cowhide
4. Lining: Cotton
The Lincoln Electric welding gloves are a popular pair of gloves made of complete leather outside construction with high grade split leather cowhide to protect against high temperatures. The gloves have come with a soft cotton liner to provide comfort and absorb moisture during use. The gloves are designed for durability with kevlar stitching and reinforced welted seams to help prevent tears. These gloves are OK for the price but aren't the highest quality. The shape of the fingers are quite uniform and the leather is tough so it won't provide the dexterity and touch sensitivity required for TIG welding.
Best TIG Welding Gloves
TIG welding gloves need more dexterity and finger sensitivity that MIG and Stick gloves because TIG is an intricate process. You'll ideally want gloves that are maneuverable but still provide adequate heat protection. It can be hard to hold a small welding rod with a chunky glove so TIG gloves usually use thinner materials such as goatskin, pigskin or deerskin. Having a thin lining or no lining will also help with dexterity. These gloves won't be suitable for Stick welding.
1. Black Stallion (Revco) T50 TIG Welding Gloves - TOP PICK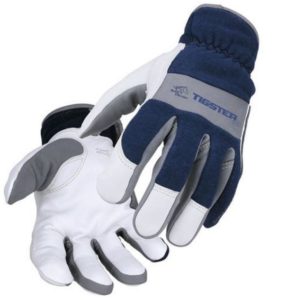 1. Brand: Black Stallion
2. Welding Process: TIG
3. Material: Goatskin

The T50 welding gloves are a top quality welding glove made with extra-premium grain goatskin and a lightweight, flame-resistant cotton back and seamless index. This combination allows for exceptional dexterity that makes it easy to use your torch and filler rod and get a good feel for your work whilst still getting heat protection. They include extra padding to help increase durability and add extra insulation. They don't have much of a cuff and don't have the thickness to endure long welding sessions so are better suited for thinner gauge work, but their benefit is their excellent dexterity. They're soft, comfortable and fit nicely around your fingers.
2. Miller TIG Welding Gloves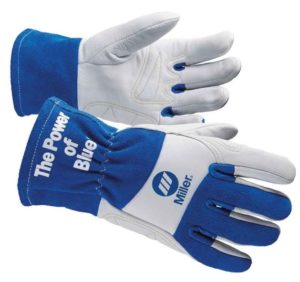 1. Brand: Miller
2. Welding Process: TIG
3. Material: Goatskin/Cowhdie
4. Lining: Wool
These Miller TIG gloves are the best choice for a supremely comfortable glove with a bit extra protection. They have wool lining, which can make you a bit sweaty if you're working in a hot environment, but it does make them very comfortable and gives a bit extra heat protection. The dexterity isn't quite as good as the Black Stallions due to the extra protection, but they still give very good dexterity. They're made from premium goatskin on the palm, with cowhide and goatskin on the back, all stitched with Kevlar. These are a great, snug fitting TIG glove that will protect your hands whilst still giving dexterity.
3. Tillman 1338 Top Grain Goatskin TIG Welding Gloves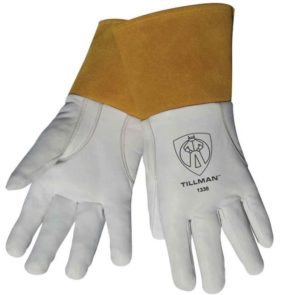 1. Brand: Tillman
2. Welding Process: TIG
3. Material: Goatskin
Tillman 1338 Top Grain Goatskin TIG Welding Gloves
These nice soft gloves are effect for the price point. Tillman are excellent at creating good gloves that are available at a cheap price. The 1338s are made from top grain goatskin which gives great dexterity and they have a 4 inch cuff. The fit isn't perfect, which you'd expect that at this price, but they're still comfortable and you get a good feel of the filler rod. Other features include a glide patch on the side to protect your hand when dragging the gun, a reinforced straight thumb for increase strength and grip and Kevlar sewing. They're available in many sizes and are great value TIG gloves.
TIG Finger
Welding Tips and Tricks TIG Finger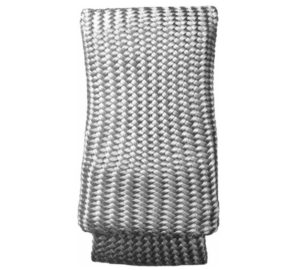 Here's a shout out to the TIG finger. This acts as a great heat shield that you can put over your glove finger for extra protection when TIG welding. This is perfect if you're looking to complete a long pass without burning yourself. With the TIG finger, you can place this on your finger and slide down hot metal for even longer with added heat protection, so you can finish that bead! With just one finger, you don't lose the touch and dexterity in your other fingers and it helps your gloves last longer too.
Best Stick Welding Gloves
Stick welding produces the highest temperatures so stick welding requires as much heat protection as possible to be able to withstand maximum heat. Stick gloves are typically made from cow hide or elk hide. Elk hide being the most heat-resistant leather.
1. Tillman 875L Premium Top Grain Elkskin Stick Welding Gloves - TOP PICK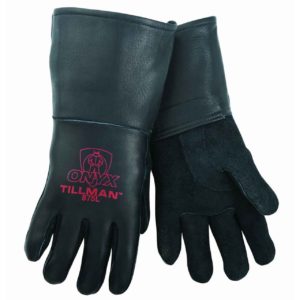 1. Brand: Tillman
2. Welding Process: MIG/TIG/Stick
3. Material: Elkskin
4. Lining: Cotton/Foam
These versatile gloves are perfect for stick welding because they're made from top grain elkskin which is the most heat resistant leather. Unlike many stick gloves, these are also really flexible and comfortable. They make grabbing stick rods easy and give you more control when welding, helping you perform better stick welds. They're more expensive than some of the cheaper tillman gloves, but their durability makes them worth the extra money.
2. Caiman 1878-5 21-Inch Deerskin Stick Welding Gloves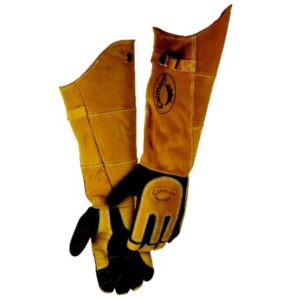 1. Brand: Caiman
2. Welding Process: MIG/Stick
3. Material: Deerskin/Boarhide
4. Lining: Fleece
These Caiman gloves are made to combine dexterity, comfort and good heat resistance. They're 21 inches long with Kevlar stitching and are padded for protection and comfort with straps over your forearms. This is useful is you're stick welding and want maximum forearm protection. You'll feel a bit of heat through these, but they still have good heat protection with the deer split palm and boarhide leather heat shield patch and reinforced palm. The leather in these is high quality and the comfort is a real treat, especially if you're welding for extended spells.
Gloves Requirements
When choosing your welding gloves there are a few considerations that you must consider to ensure you have the most appropriate gloves. Welding gloves should be:
Heat resistant with sufficient insulation to suit the welding process
Moisture resistant
Be in good condition, not have any holes in them
Flame resistant
Materials used in Welding Gloves
Welding gloves tend to be made from a mixture of leather and fire-resistant fabric.
You need to decide what level of protection you need for your hands. The higher temperature that your application is performed at, the better insulation you need in your glove.
Choosing the right leather can be confusing with so many options available. Different types of leather has different characteristics, for example their flexibility, their resistance to heat and oil, and do they feel smooth or rough? Grain leather is typically smooth and shiny, whilst split leather (suede) has a rough feel and is thicker.
Side-split cowhide, elk skin and thick deerskin are well suited for high temperature protection. Elk skin is naturally more resistant to heat than cowhide.
Cowhide
Cowhide is the most common form of leather used in welding gloves. This is because it's tough, durable, heat and flame resistant. It's comfortable and offers a lot of insulation, however, it doesn't provide that much dexterity so it isn't the best choice for TIG gloves.
Pigskin
Pigskin is a tough hide that's flexible. It's very oil resistant and is quick drying and weather resistant. Pigskin is a thinner leather so won't offer the maximum heat resistance.
Goatskin
Goatskin gloves are a popular choice for TIG welding gloves due to their superior dexterity which helps for handing filler rods and their durability. They're comfortable, flexible and lightweight, whilst still offering oil and weather resistance and suitable insulation.
Elkskin
Elkskin is the most heat, flame and abrasion resistant leather that's durable and comfortable. This makes them to best choice to stick welding which produces the most heat and requires the best level of heat protection.
Deerskin
Deerskin provides a really comfortable fit and lots of dexterity. Similar to goatskin, these are typically used for TIG welding gloves. Thick deerskin offers good heat protection and will mould to your hand over time to provide extra comfort.
Other Considerations
Stitching
Kevlar stitching is one of the most important features of welding gloves. Kevlar thread is heat resistant and a lot stronger than cotton. When you're welding and sparks are flying around, you'll need your stitching to be heat resistant of the stitching will burn and the gloves will break and fall apart. Kelvar stitching will resist high temperatures to make your gloves be more durable and last longer. Welted fingers will also help to protect the stitching and add extra durability.
Lining
Welding gloves are lined with different materials. Gloves that have cotton lining will offer more dexterity than wool lining, but will offer less heat-resistance. Fleece lining is comfortable but it can be tough to take them off if you're hands get sweaty!
Size
The size of the cuff is important because you want to keep your arms shielded from the arc. The gloves with extra long cuffs you can even think about wearing with a t shirt. The longer the glove, the more protection you'll get for your wrist and forearms.
Dexterity
Ideally, you want gloves that will allow you to have flexibility to help your grip. This is more crucial in TIG welding because it's a highly skillful type of welding. You need to strike a balance between flexibility and insulation. Many stick gloves won't allow for much dexterity because they have extra insulation to protect from the heat.
Price
We've included a range without the very cheapest gloves. The cheapest welding gloves are available for under $10, however cheaper gloves don't tend to have the same levels of durability as premium gloves and are an risk of falling apart at the seams. For just a few dollars more, you can get some good value Tillman gloves. Tillman gloves are still cheap (often under $20), and are much more durable. Gloves around the $15 range don't last forever, but at $15 they're fine. The more expensive gloves from $20 and up are typically made from the top grain hides with quality lining and give the best fit around your fingers.
We hope you liked our article "The Best Welding Gloves for MIG, TIG and Stick in 2020" if so, we'd really appreciate it if you could rate and share it.