Best Welding Safety Glasses Shades 14, 12, 10, 5, 3
Many beginner welders don't realize the damage that can be caused to the eyes by not wearing the sufficient welding safety equipment. The welding arc produces harmful radiation which can damage the eyes and cause the unpleasant "welders flash." Safety glasses are a way of blocking out UV light and infrared wavelengths emitted from the welding arc. Welding glasses are great because they also protect the eyes from any flying debris and can help reduce irritation from fumes. Updated March 4th 2020
Welding Lens Shade Numbers
The most important thing to consider when choosing your welding glasses is its shade number. Welding safety glasses come in a variety of shades. The shade number is an indicator of the darkness of the lens and there are different shades recommended for different types of welding, and the amperage used.  Some welding processes produce a brighter arc than others, so these require a higher shade number. Other types of welding require a lower shade number so that it's not too dark to see the weld pool. As a general guideline, torch brazing and soldering should look at a minimum shade 3, SMAW/Stick welding should be 8-12 depending on the amperage, GMAW/MIG and GTAW/TIG should be minimum 8-10, carbon arc welding should be minimum 14. The Occupational Safety and Health Administration (OSHA) have detailed a chart which list the full specifications for each type of welding and the appropriate shade. Also check out our guide on welding helmets for further eye protection advice.
Click one of the links below to find the welder glasses which are best suited to your needs.
Welding Glasses Comparison Chart
| Image | Name` | Shade | More |
| --- | --- | --- | --- |
| | Servore Auto Shade Darkening Welding Goggles | Auto Darkening | |
| | Phillips Solar Eclipse Glasses Shade 14 | 14 | |
| | Insight Welding Glasses 12.0 | 12 | |
| | Shade 10 Goggles | 10 | |
| | Hobart 770726 Shade 5 Welding Glasses | 5 | |
| | Jackson Safety 3004761 Nemesis Cutting Safety Glasses | 5 | |
| | Miller Electric Shade 5.0 Scratch Resistant | 5 | |
| | Pyramex Safety Emerge Safety Glasses | 3 | |
Best Shade 3 Welding Glasses
Pyramex Safety Emerge Safety Glasses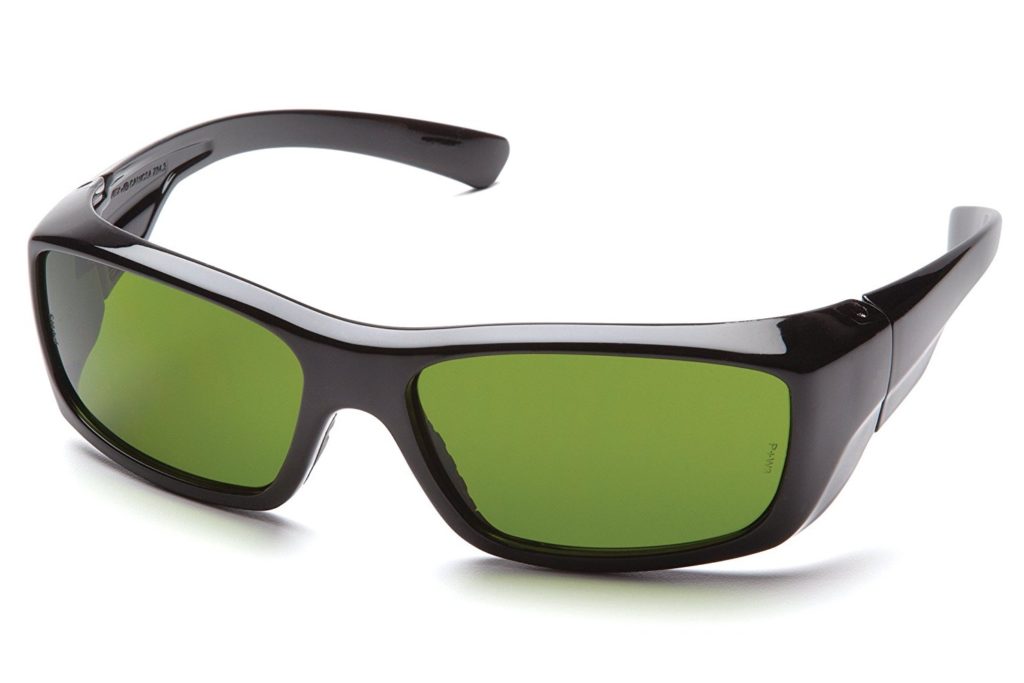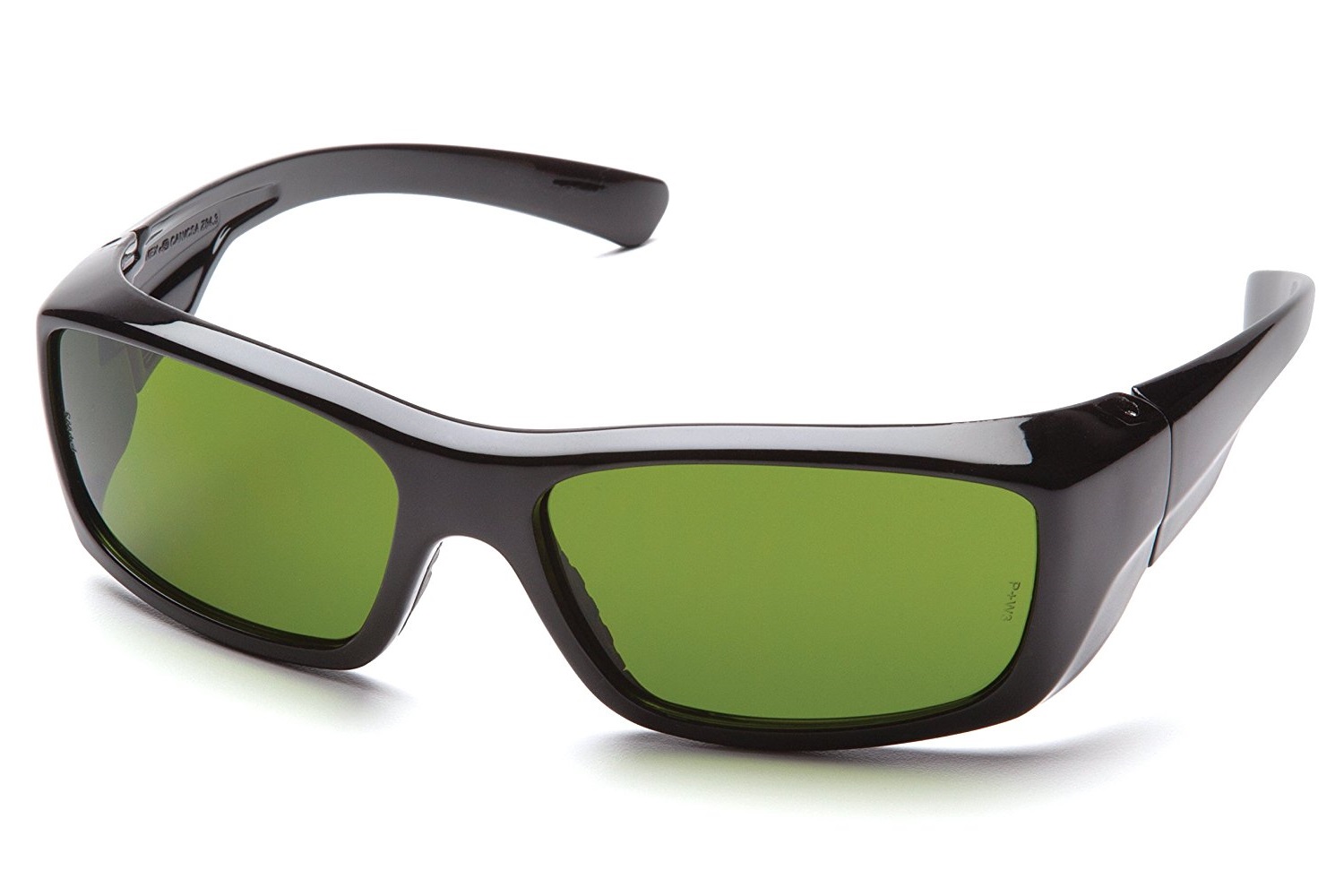 These Pyramex safety glasses are one of the must-haves around your garage or workshop. They're a great choice when cutting, light brazing or using other power tools when you're not using your higher shade glasses. You can also get the same brand glasses with a +2 magnification lens to help you easier see your work piece.
The glasses are pretty stylish and are comfortable to wear with a soft noise piece. There's a little bit of space around the frame to allow some air flow so you get maximum protection without steaming up. The glasses seem a better fit for medium-wide head shapes and might be a little loose if you have a narrow shaped head.
The lenses are scratch-resistant and provide 99% UVA/B/C protection. They're also they're ANSI high impact rated so you're getting a durable pair of glasses that you should get a fair bit of use out of.
The best thing about these is that they're incredible value. At under $10 you can get yourself a great pair of glasses for a bit of light protection around the garage.
Best Shade 5 Welding Glasses
1. Miller Electric Shade 5.0
2. Jackson Safety 3004761 Nemesis
3. Hobart 770726 Shade 5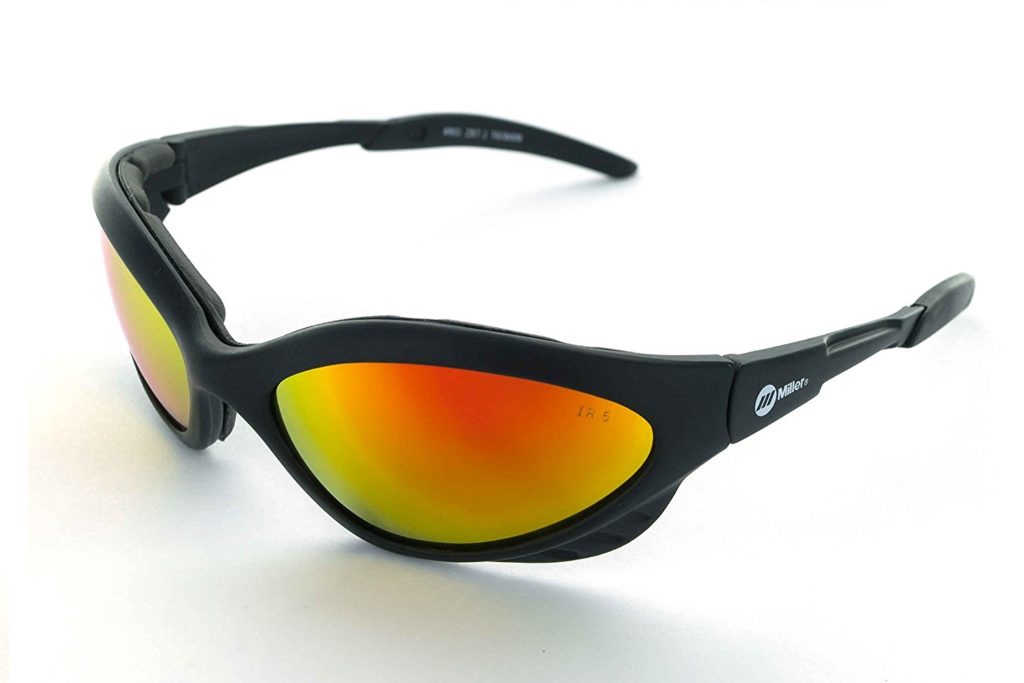 Miller keep up their range of excellent quality welding equipment with these welding safety glasses. They're only a shade 5 so aren't suitable for you MIG/TIG welding but work great for when you're cutting with a torch or grinding metals.
One of the things I like about these is that they're a lot more comfortable than many other safety glasses or welding goggles. They have soft padding around the frame of the lens, so they're easy to wear for long periods of time and won't leave any marks on your head. These glasses also wrap nicely around your head to allow for a wide range of vision and extra protection from dust and debris. They're UV-resistant and scratch resistant and are a solid choice for the workshop to protect your eyes.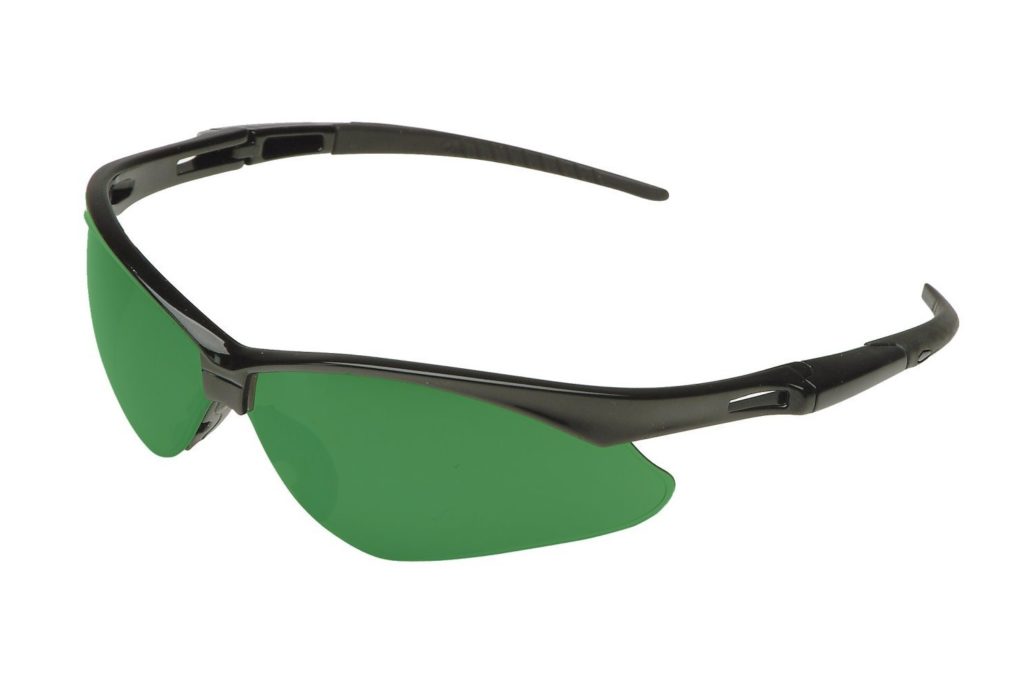 The Jackson safety glasses offer a bit of a different style to the Miller and Hobart safety glasses with a more sporty, lightweight design. The glasses meet ANSI Z87.1 safety standards and filter out 99.9% UV Protection and are best suited for protection when cutting.
They don't fit as tight as the Hobart glasses, so they will fit over prescription glasses. They also have a single lens wrap-around with increased peripheral vision. Another bonus feature is the quality neck strap that comes included in the price.
The most striking feature of these glasses in the cool green tinted lenses. For some people the green tint is a bit strong because it takes some getting used to and it really blocks out some colors such as red. The positive is that this green tint really cuts out glare, so if you don't mind everything getting a strong green tint then these are a great choice.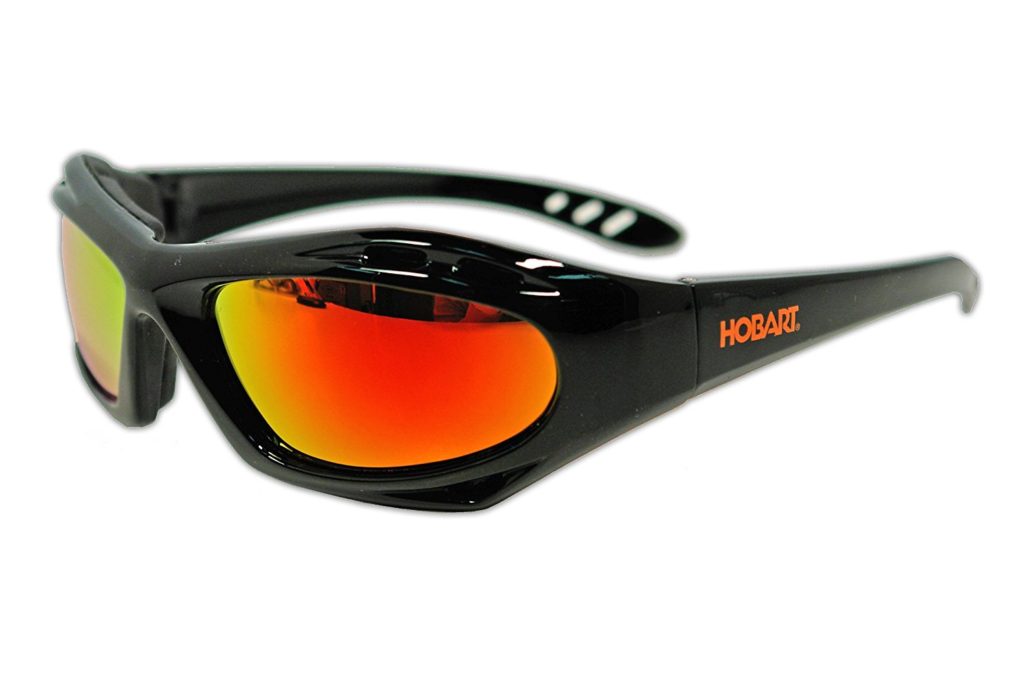 These are quite a similar pair of glasses to the Miller shade 5 glasses. These are also a great product, so if you like your Hobart products these might be the ones for you. They're scratch resistant and UV resistant and they have a close fit that's really comfortable because of the soft protective padding around the edges. This padding also to prevent debris from getting into your eyes.
This shade of lens isn't suitable protection when welding, and darker shades will reduce visibility too much when cutting. So these are best suited for torching, plasma cutting and general protection from debris.
I really like the mirrored effect of the glasses and the way they look stylish like normal sunglasses. They're a comfortable choice with the reliable Hobart quality that will protect your eyes at a reasonable price.
Best Shade 10 Welding Glasses
Athermal Shade 10 Goggles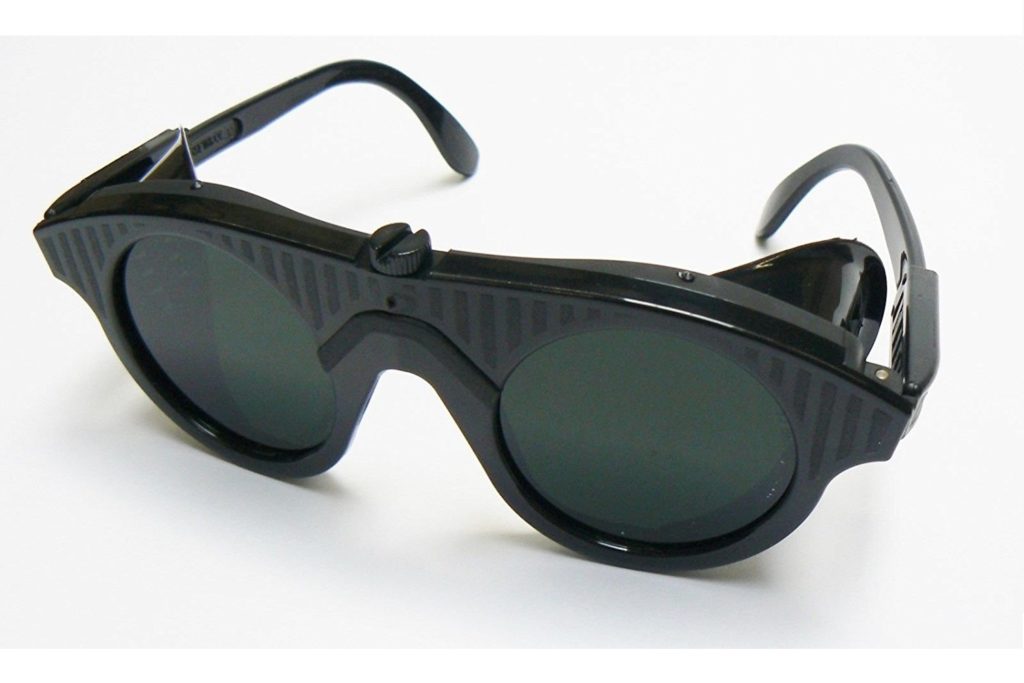 Shade 10 welding glasses aren't made by many manufacturers. Mainly because they're not dark enough for high amperage welding, but they are still very useful in the workshop, especially if you're focused on low-medium amperage stick/MIG/TIG hobby welding. They're usually used in areas where a welding helmet won't fit into a small area. They're definitely too dark for cutting or wearing around the garage, you won't see much through them at all until you start the welding arc.
These glasses have a cool, retro design, with side guards for extra protection. They're quite a close fit but you might still be able to wear them over your prescription glasses. The frame is comfortable and lightweight, and the lenses are scratch resistant and replacable. I also like the slight green shade that the lens gives you.
Best Shade 12 Welding Glasses
Insight Safety Welding Glasses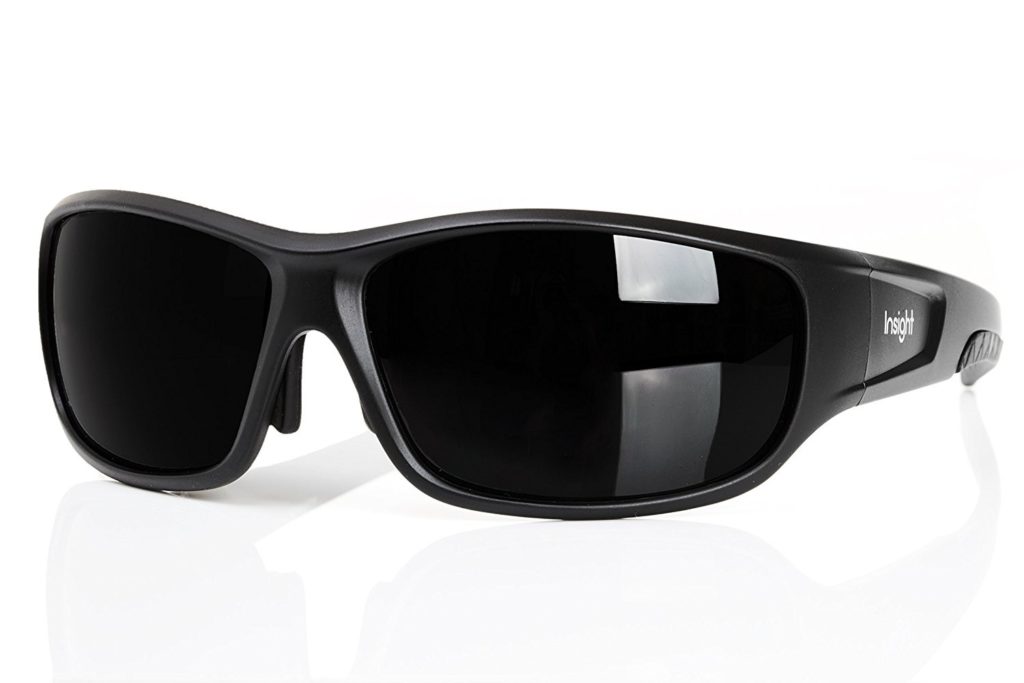 I really like these shade 12 safety glasses from Insight, they're really sturdy and hold in place well when you're wearing them. The frame also curves round for extra protection and an increased field of vision.
These are suitable for most welding applications because they're so dark. They're pretty much completely black, so you'll only be able to see the arc when you're wearing them.
They're a great price for the quality, and they also come with a case and microfiber bag. Insight also offer to provide a refund if you're not satisfied with the quality of them.
Best Shade 14 Welding Glasses
Phillips Solar Eclipse Shade 14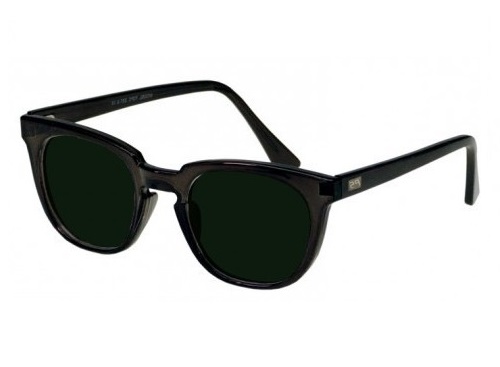 These shade 14 glasses look similar to a normal pair of sunglasses, but if you try to wear them outside you'll hardly see anything at all. Shade 14 safety glasses are seriously dark. They block out 99% of UV light and 97% of IR Radiation and are the highest shade of glasses you can buy. They can be used for all types of welding, and because they're so dark they're also the only shade that you can safety view a solar eclipse through.
They're a good choice to wear if you can't use your welding helmet, and are are the perfect option if you wish to view a solar eclipse. They're lightweight and comfortable, but if you're looking for more protection over comfort and ease of use, then look at the shade 14 goggles or welding helmets.
Best Auto Darkening Welding Glasses
Servore Auto Shade Darkening Welding Goggles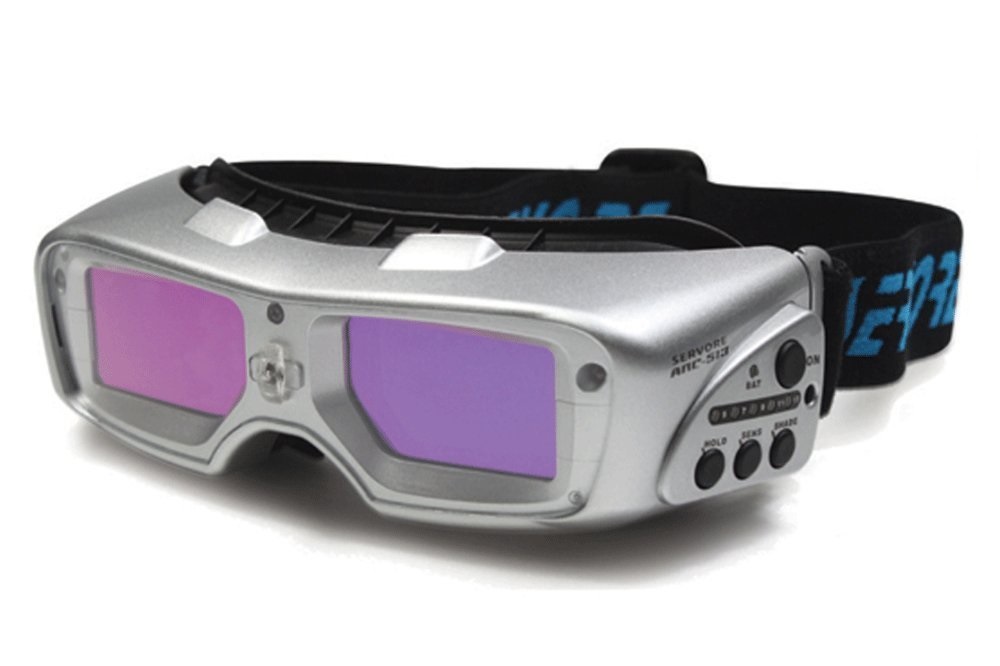 Auto-darkening welding glasses are a relatively new piece of technology but are a brilliant option for welders. They're a more lightweight option than a welding helmet that allow you to get into restricted spaces with greater ease. If you're concerned about the burning your face when wearing these, then you can additionally purchase the Servore face guard that is compatible with the safety goggles.
These glasses range from shade #5 to shade #13 and the controls are simple to use. On the side of the glasses there is a shade control button and a sensitivity control button to easily adjust settings.  The field of vision is pretty wide and they react really quickly and accurately to changes in light. You can't wear these with prescription glasses, but they include a frame that allows you to get your own lenses fitted into them.
The frame and lens are also designed to be shock and heat resistant for added durability. The strap and compact size makes it a snug fit, but there is still good air flow through its air vent system.
They are a lot more expensive that the other welding glasses, but you're paying for a top of the range pair of safety glasses that you'll be able to use for all of your jobs around the garage.
We hope you liked our article "The Best Welding Safety Glasses in 2019" if so, we'd really appreciate it if you could rate and share it.