Best TIG Welder Reviews
Once you've mastered your MIG skills, you'll probably want to look at buying a TIG welder. TIG welding is one of the most skillful welding methods that will give you higher quality welds with a cleaner bead. It's far superior for welding thinner metals and small welds.
To successfully use a TIG welder you need dexterity and patience. With so many TIG welders on the market, we've listed our favorite 5 TIG welders at a range of different power outputs, to help you choose the best one for you. Last Updated Jan 18th 2020
TIG Welders Comparison Chart
Below is a comparison chart of the best TIG welders on the market.
1. Everlast PowerTIG 210EXT - TOP PICK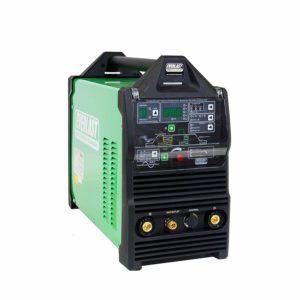 1. Brand name: Everlast
2. Model: PowerTIG 210EXT
3. Height: 17.5 in.
4. Length: 22 in.
5. Width: 9.25 in.
6. Duty Cycle: 60% @ 210 A
7. Input Voltage: 115/230 V
8. Process Type: Stick, TIG
9. Product weight: 62 lb.
10. Weld Thickness: 18 ga. – 3/8 in.
11. Welding Amperage Range: 10-210 A
The Everlast PowerTIG 210 is a powerful, top of the range welder that's industry leading in its settings and features. The microprocessor control helps provide better precision in welding parameters and the ability to fine tune them to the perfect requirements. The 210 is great to welding aluminum and features 3 different wave forms: Advanced Square wave, Soft Square wave, and Triangular. If you're a beginner, don't let the settings overwhelm you, the flowchart interface really makes it much simpler to understand.
2. Miller TIG Diversion 180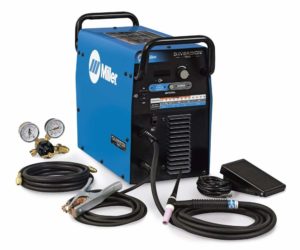 1. Brand name: Miller
2. Model: TIG Diversion 180
3. Height: 17 in.
4. Length: 23.875 in.
5. Width: 9.875.
6. Duty Cycle: 20% @ 150 A
7. Input Voltage: 115v/230 V
8. Process Type: TIG
9. Product weight: 50lb.
10. Weld Thickness: 22 ga. – 3/16 in. – Single Pass
11. Welding Amperage Range: 10-180 A
This AC/DC TIG welder will give you great results on both aluminum and steel. This also has a simple interface and the ability for both 115 and 230V power input so it's a good choice for hobbyists and more experienced welders. The multi-voltage plug also allows you to easily change the input voltage without any tools. Miller machines are normally a bit expensive for the hobby welder, but Miller have made this TIG only one as a great way to get started with a quality TIG machine at a more affordable price. It doesn't have that much power, but if you're looking for a top range TIG machine for thinner metals, this is the one. Miller pride themselves on excellent manufacturing quality, so this machine is build to stand the test of time and maintain amazing quality.
3. AHP AlphaTIG 200X - GREAT VALUE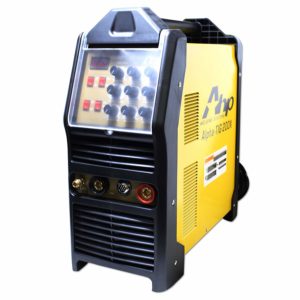 1. Brand name: AHP
2. Model: AlphaTIG 200X
3. Height: 22 in.
4. Length: 20 in.
5. Width: 9 in.
6. Duty Cycle: 60% @ 200A (TIG), 35% @ 155A (Stick)
7. Input Voltage: 110/220 V
8. Process Type: Stick, TIG
9. Product weight: 50 lb.
10. Weld Thickness: 24 ga. – 3/8 in.
11. Wire Feed Speed Range: 15-360 IPM
12. Welding Amperage Range: 10-200 A

The AlphaTIG is one of the best value welders on the market that allows you to perform quality TIG and Stick welds without spending too much money. Despite all the knobs on the front, it's still easy to set up and use. The range of settings on the front does offer more flexibility though. Some cool features are the 2T/4T switch and digital amperage display.
4. Lincoln Square Wave TIG 200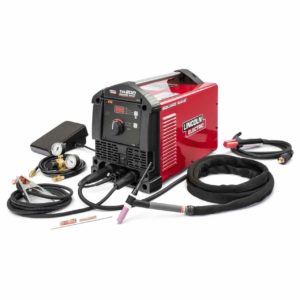 1. Brand name: Lincoln
2. Model: Square Wave TIG 200
3. Height: 14 in.
4. Length: 19.25 in.
5. Width: 10.75 in.
6. Duty Cycle: 60% @ 175 A
7. Input Voltage: 115/230 V
8. Process Type: TIG, Stick
9. Product weight: 46 lb.
10. Weld Thickness: 24 ga. – 3/16 in
11. Welding Amperage Range: 10-200 A
This award winning welder is really popular due to its ease of use, excellent user interface and exceptional quality and is used by lots of different skill levels. Lincoln welders made in the USA are built to last and stand the test of time. The user interface is ideal, as you have the ability to simply dial in settings and start welding.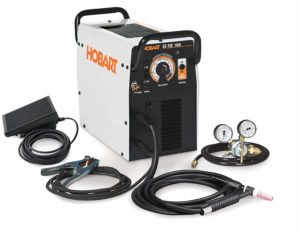 1. Brand name: Hobart
2. Model: EZ-TIG 165i
3. Height: 17 in
4. Length: 23.875 in.
5. Width: 9.875 in.
6. Duty Cycle: 20% @ 150 A
7. Input Voltage: 230 V
8. Process Type: TIG
9. Product weight: 50 lb.
10. Weld Thickness: 22 ga. – 3/16 in.
11. Welding Amperage Range: 10-165 A
The Hobart EZ-TIG 165i is a great quality TIG welder that has a simple user interface with just one knob on the front. The Amperage setting offers infinite control for more flexibility and finer control to help achieve better welds. It's only compatible with a 230v power supply so you won't be able to use this with your standard household power supply, but if you have a generator then you'll be ready to plug it in and start welding in no time.
How to use a TIG Welder?
A TIG welder requires more skill than a MIG welder because you have three things to control: the filler rod, the torch and the foot pedal. However, this allows for much more control of heat input as you can adjust these elements to achieve more specific results.
The system works by using an electric TIG torch in one hand to strike the arc with a filler rod in the other hand to feed the filler metal into the weld pool. The foot pedal controls the amperage released by the welder. You can set the maximum amperage on your TIG welder, then use the pedal to change the amperage. Holding the pedal all the way down will give you maximum amperage. This flexibility is great as it allows you to slowly start the welding process and help to prevent thermal shock in the metal.  When you set up your TIG welder you need to make sure your ground clamp is attached to the workpiece or you metal workbench.
Through the TIG torch you'll also release Argon gas into the weld pool to protect to weld from contamination. You'll have to hook up a gas bottle and regulator for this. Make sure you choose the right welding gas (Argon) as your MIG bottle won't be appropriate.
Factors for Choosing a TIG Welder
1) Voltage
You need to decide what your primary voltage requirements are when choosing a TIG welder. The 3 options are a 120V input which is your normal household power supply, a 240V input which requires a generator, or a 120V/240V which offers both.
If you're just welding from your home workshop, then you'll be comfortable with a 120V TIG welder. I like to have 120/240V for maximum flexibility which allows me to get more power. Don't buy a 240V input if you're looking to use the welder from your household power supply.
2) Material Thickness
Consider the thickness of the material you're going to be welding. This will  determine the amperage range of the welder you need to buy. A welder with a higher amperage range will be able to weld thicker metal. Remember, you can turn a powerful welder down but you can't turn a low power welder up past its limit – so if you're not sure about the metal thickness then go for a powerful one.
3) Budget & Warranty
The price of the welder is an important consideration. TIG welders aren't cheap but you're paying for quality results. We've included brands that make high-quality machines that have been proven to stand the test of time. Consider the warranty as well on welders to help protect your purchase if anything goes wrong.
4) Multi-process or just TIG?
When you buy a TIG welder, some will allow you to perform other welding applications such as stick welding. Depending on what equipment you've already got, you may consider a multi-process welder as a better option. If you've already got a good stick welder, then you might be better off choosing a straight up TIG welder.
5) Weight and portability
The weight is an important factor if you're planning on moving the welder about. You'll probably be best putting these machines on a welding cart as they're not easy to transport.
6) Duty cycle
The duty cycle indicates the length of time you can weld continuously without overheating. A TIG welder with a 20% duty cycle at 200A could be operated for a 2 minute period at 200A and would need an 8 minute cooldown period.
We hope you liked our article "The Best TIG Welders in 2019" if so, we'd really appreciate it if you could rate and share it.