Best Stick Welder Reviews
Stick welding is a popular type of welding that is a great choice if you're welding outdoors in windy conditions. It's pretty simple to learn, you can use it on rusty items, and you won't need any gas. There are loads of stick welders on the market so we've picked our favorites and listed them below. Typically a stick welder will either be a single purpose stick welder or a multipurpose welder that has the ability to perform a range of welding operations, including stick. There are advantages to both that we have explained below. Last Updated March 1st 2020
Best Single Process Stick Welders
Single process stick welders are welders that can only perform stick welding. These are best suited to buyers who already own and MIG or TIG welder but wish to additionally perform stick welding. They are also well suited to anyone who only wishes to stick weld. One of the great things about single process stick welders is that the best on the market are a lot cheaper than a high quality MIG or TIG machine. Below we've listed our 5 favorite single process stick welders.
1. Amico Power Arc 160D - TOP PICK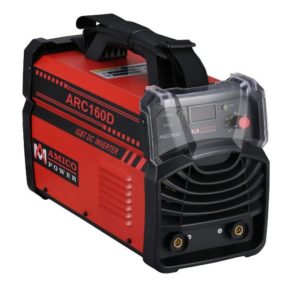 1. Brand name: Amico Power
2. Model: Arc160D
3. Height: 11.8 in.
4. Length: 16.6 in.
5. Width: 7.5 in.
6. Duty Cycle: 60% @ 115V/130A & 60% @ 230V/160A
7. Input Voltage: 115V/230V
8. Process Type: Stick
9. Product weight: 15.4 lbs
10. Welding Amperage Range: 20-160A
This Amico stick welder is my favorite stick welder. It runs good with a smooth arc and it's solidly built. It's a small machine, that's portable at just 15.4lbs but still has some power behind it. It welds great on 115V and will easily run 3/32 7018 at around 70A without popping the circuit breaker. It's a great value welder that's cheaper than many other stick welders, but it still has the power and quality to achieve great results. The 10 foot lead is also nice.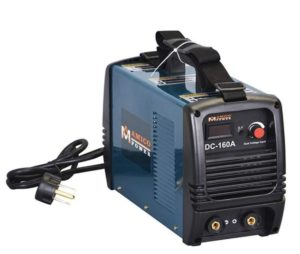 1. Brand name: Amico Power
2. Model: DC-160A
3. Height: 12.5 in.
4. Length: 22 in.
5. Width: 9 in.
6. Duty Cycle:  60% @ 230V/160A
7. Input Voltage: 115V/230V
8. Process Type: Stick
9. Product weight:  18lbs
10. Welding Amperage Range: 5-160A
The Amico Power DC-160A is one of the most popular welders on the market. This is the same welder as the Amico Arc 160 but with a slightly different design. It's slightly larger and heavier than the red version, which is why I slightly prefer the red version, but the blue version is still excellent. They're the same in terms of performance so there's not really anything to choose between them.
3. Forney Easy Weld 298 Arc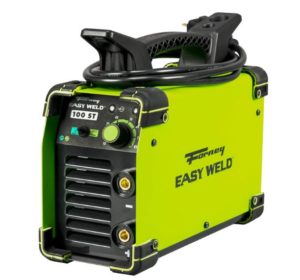 1. Brand name: Forney
2. Model: Easy Weld 298 Arc 100 ST
3. Height: 11.5 in.
4. Length: 15 in.
5. Width: 7 in.
6. Duty Cycle: 30% @ 90A
7. Input Voltage: 115 V
8. Process Type: Stick (TIG Capable, torch sold separately)
9. Product weight: 7.5 lb.
10. Welding Amperage Range: 10-100 A
This little Forney welder is great for beginner welders and doing small jobs. It works a lot better than you might think by looking at it, with a smooth arc. It doesn't have the power of other stick welders, and will only run off 115V, but will still weld 3/32 7018 at 90A. This machine is affordable, and is a cut above the really cheap stick welders. There's also the option for TIG, but you'll need to purchase the torch separately (and the gas!).
5. Longevity Stickweld 140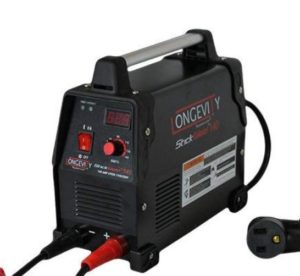 1. Brand name: Longevity
2. Model: 721405557523 Stickweld 140
3. Height: 13 in.
4. Length: 16.3 in.
5. Width: 11 in.
6. Duty Cycle: 60% @ 140A
7. Input Voltage: 115/230V
8. Process Type: Stick
9. Product weight: 9lb.
10. Welding Amperage Range: 30-140A
Longevity create great, simple welders for hobby welders that are good quality. This welder is super light so is great if you need something light for quick on-the-go jobs. It has plenty of power and will weld 3/32 6013 and 7018 rods fine on 1/4″ and 1/8″ steel. It's great value for money as well so is a good option.
5. Hobart 500570 Stickmate 160i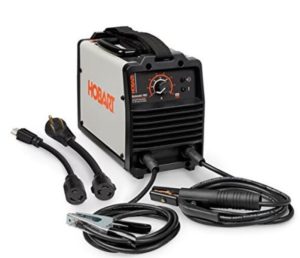 1. Brand name: Hobart
2. Model: 500570 Stickmate 160i
3. Height: 10.5 in.
4. Length: 13.4 in.
5. Width: 7.1 in.
6. Duty Cycle: 30% @ 1600A
7. Input Voltage: 115/230V
8. Process Type: Stick
9. Product weight: 15 lb.
10. Welding Amperage Range: 20-160A
The Hobart Stickmate 160i is a more expensive option, but Hobart are using the fact that their quality standards have been proven time and time again over the years. It works great at 230v and it's also small and lightweight so it's easy to transport. There's some controversy because these have been made in China, but Hobart designed and developed them in the US and handed over their specifications.
Things to consider when choosing a stick welder
Below are some of the factors to consider when choosing a stick welder. We've chosen our favorites based on a combination of these factors, however, read through these factors to help decide which one is best for you.
Input Voltage
Most welders either have an input voltage of 115V or 230V, with some welders having the capability to use both. These are known as dual-voltage welders. The 115V welders are best suited to hobbyists that aren't looking for a great amount of power. You can plug these into your standard household power outlet which makes them versatile. 230V welders are more powerful, but you'll need to have the correct power outlet. You'll likely need to plug these into a generator to be able to use them.
Power Output
The amperage of the welder will give you an indication of the power you can get out of the machine. A higher amperage welder will mean deeper penetration and allow you to weld thicker metals. This will help speed up the welding process as you won't need to perform multiple passes to achieve your weld. If you're unsure of which amperage to go for then you're better with a higher amperage welder. You can always turn the amps down on a powerful welder but you can't turn them up on a low power welder.
Duty Cycle
Duty cycle refers to the period of time that you are able to weld before cooling down. If you want to stick weld for longer periods, then you will need to ensure you buy a welder with a high duty cycle. Duty cycle is displayed as a percentage, so 30% duty cycle will mean you can weld for 3 minutes before having a 7 minute cool down. The duty cycle will vary depending on your output power settings. The higher your amperage, the lower your duty cycle will be. Some stick welders have better duty cycles at set amperages than others, so pay attention to this when making your purchase.
Ease of Use
Ideally, on the front of a welder you want the controls to make it as easy as possible to use. Often you will have to pay more for advanced features such as auto-set, but most stick welders have basic settings that are easy to use. You should still make sure you can change the settings whilst wearing your gloves, and that you pick a welder with the controls that are best suited to your experience.
Portability
One of the main reasons people use stick welders is because of their versatility. You are able to use them in windy conditions and on different qualities of metal. If you're buying a welder because you want to use it outdoors, then portability is a big consideration. Luckily, most stick welders are relatively light. If weight is a consideration, then you should choose an inverter welder over a transformer welder. Transformer welders are the old school style of welder that are many times heavier than an inverter. Stick welders are great because you can easily transport them to do odd jobs for clients, friends and family.
Safety
When using a welder you need to have safety features installed. If you get an old second hand welder, the chances are it won't be safe to use and you'll be putting your safety at risk. Thermal overload protection is a must have on welders. This automatically turns off the welder before overheating. This is great because you can weld without worrying that you're going to exceed your duty cycle. You should still, however, keep an eye on the duty cycle indicator to prevent you from activating the overload protection. You should always read the safety manuals of any welding equipment you're using, wear the correct gear, and don't take any chances!
Price
Stick welders are some of the cheapest welders you can buy so they're a good choice if you have a low budget. Multi-process stick welders are much more expensive than single process, but could save you money in the long run as you won't need to buy a different welder for each welding process you wish to perform.
We hope you liked our article "The Best Stick Welders in 2019" if so, we'd really appreciate it if you could rate and share it.