Welding is a relaxing hobby that lets you build things that will last for many years and even generations. It's also a great way of generating some side income. Below are some of our favorite welding project ideas for you to try out.
Do you have a welding project? Send them in to us at kingsofwelding[at]gmail.com.
Please attach a JPG photo to your email if possible. If you send us your story of how you built it and the process you used then we will run a special feature in our newsletter as well as inclusion below.
Before you start welding: If you're new to welding and you're looking to try it out – there's a few things you'll need. Firstly you'll need a welder to start welding with. A MIG welder is usually your best bet due to the affordability, quality of results and ease of use. You'll also need to make sure you have all your welding safety equipment.
Quick jump:
Workshop & Practical
Here are some of our favorite things to make for your workshop or garage.
1. Welding Cart
A welding cart is the perfect place to store your welder. Some of the more powerful welders can be very heavy and tough to carried, so a wheeled cart is perfect for moving it about.
2. MIG Welding Gun Holder.
This handy holder for your torch is useful if you want to put your gun down but not place it on your workbench. It's attached to a clamp so it's easily transportable.
3. Workshop Table.
There's never any harm in having an extra table around the garage to store stuff or work on if you have the room.
4. Pencil Holder.
This is a cool little project to practice your skills with smaller pieces of metal and won't take much time. It looks really neat and is a nice touch to a desk in your workplace.
5. Garage Shelving
Shelves are excellent for storage because you can keep loads of items in close reach to your workbench – but out of reach of children! This is a good design made from steel tubing.
6. Shop Stool
A welding stool is a simple project that takes just a couple of hours to build. Everyone needs to sit down so it's a great addition to your workspace. All you need is 4 legs, 8 frame pieces and a seat.
Interior and Furniture
There's loads of welding projects you can do too make something great for your home or as a gift to a friend or family. Here are some of our favorites.
1. TV Side Tables.
These are a really useful thing to have next to your sofa. It has a simple design and can be used as a side table, food tray or laptop table.
2 Industrial Coffee Table
Another type of table, this one's a bit sturdier. They look really neat, and will probably last longer and be cheaper than getting one from a store.
Learn how to make a coffee table
3. Horseshoe Coat Rack.
This is a quick and easy project that looks great on the wall. Simple get hold of some old horseshoes and weld them in a row. Mount it on the wall and you'll have something cool to hang your coats on.
4. Horseshoe Wine Rack.
Horseshoes are really cool for welding projects because there's loads you can do with them in different styles. Try a horseshoe wine rack in any design you like.
5. Book Ends
Book ends is a common first welding project because they're small and don't require much intricacy. Welding an L shape out of two sheets of metal will give you a solid basis. They also make a great present and can be easily personalized.
Outdoors
1. Fire pit
With half a sheet of steel you can make a fire pit. Fill it with wood and it's perfect for sitting round the fire with a friends and a few beers.
2. Firewood Rack
Store all your fire wood with ease with a firewood rack. Below is an example of a large rack, but you can easily create them with more simple designs and a solid U shape should do the job.
3. Barbecue
Why not show off your welding skills by making your own barbecue. This also works well if you have a metal barrel that you can use.
4. Metal Trellis climbing plants
A metal trellis is a more durable option that usual wooden ones. If you have climbing plants such as vines in your garden that will offer good strong support.
Learn how to make a metal trellis
Welding Art
1. Animal Sculptures
There's no end to fun designs you can choose to weld animals. If you have spare bits of metal lying around you can easily try to weld them into something that could make a great gift to family member.
To see some truly amazing animal sculptures check out the amazing welding scultpure of Gary Hovey. Below is a picture of one of his eagle scultpures.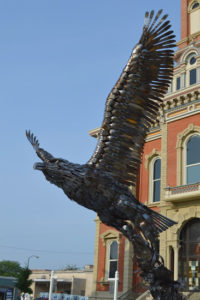 2. Car Sculptures
Old nuts and bolts can turn into something amazing. Try your creative skills by creating a sculpture of a mini car or other vehicle.
3. Spoon Flower
If you have too much cutlery or are getting new set – rather than throwing spoons away or having some lying around that you don't use, try making a simple spoon flower out of them. They're make a great addition to your garden!
Hopefully these gave you some ideas for your next project! If you have any to add to this list please send them in to kingsofwelding[at]gmail.com thank you.