Cool and Unique Gift Ideas for Welders
Are you looking for the perfect gift for a welder? If your partner, family member or friend is a welder and has a birthday coming up then you might look at getting a cool welding gift for them. 
If you want something a bit different to the stuff you'll usually find down your welding store, this guide shows some of the best gifts for welders from across the internet with lots of affordable options under $20.
Many thanks to www.goodoldgifts.com for helping us research the gifts in this guide.
1. Revco Industries Extreme Gear Pack
This welding gear bag is the perfect place for welders to store their equipment. Its dimensions are 19x12x19 and it weighs approximately 1.5lbs. The most notable feature is the front compartment for carrying a welding helmet, which has a quick action helmet catch so you can easy take the helmet in and out. There's plenty of pockets for storing pliers, wire brush, gloves and any other welding accessories, and enough room for lots of welding equipment and safety clothing. The bag has padded back for comfort and is durable with reinforced side pockets. A great gift for any welder!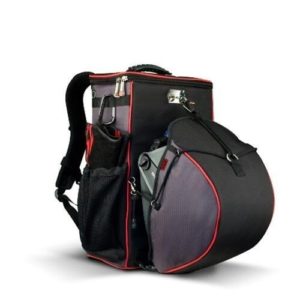 2. Welder Gift Mug
If the welder in your life likes a laugh and enjoys a cup of tea or coffee, then a funny welder mug could be the perfect gift. This large 15oz mug has a fun design that's printed on both sides. Welders are often proud of their hard working nature and skill with their hands whilst being able to laugh at themselves. This mug celebrates the lifestyle of a welder and makes a great birthday or Christmas gift.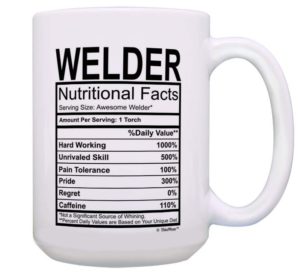 3. Funny T-Shirt
There are lots of different funny slogan t shirts for welders, but this was our favorite. This t shirt is unisex and comes in sizes up to XXX-L. It was designed by artists is Michigan and made in the USA with super-soft cotton from Texas and ink from North Carolina. The workers at the company are receive fair wages and healthcare so you know your money is going to good use.  Most of all it's just a great t-shirt that's comfy to wear and the print doesn't wash off easily so it's good value for money.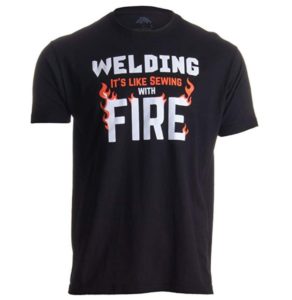 4. Ghost Skull Welding Cap
Welding caps are useful for providing extra protection for your head under your welding helmet. The Miller ghost skull welding cap is a bit different to your usual welding cap. The cap features a cool skull pattern that you don't usually see on welding caps. It's also reversible so you have two different colored skull patterns to choose from depending on which one you like the most. Miller make quality products and this hat is made to the same standards with durable stitching and comfortable, breathable 100% cotton material.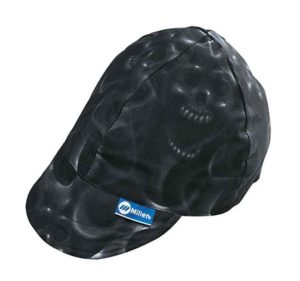 5. Welder Patent Wall Art Prints
Reproduction patent prints are a classy gift for a welder that make a room look really cool. These historical prints showcase some of the most famous welding inventions and look just as good in the workshop or in the lounge. The set contains 4 prints, 8x10x10 inches on quality, thick premium grade photo paper. The prints don't come framed but you can easily get them framed and they still look great on their own.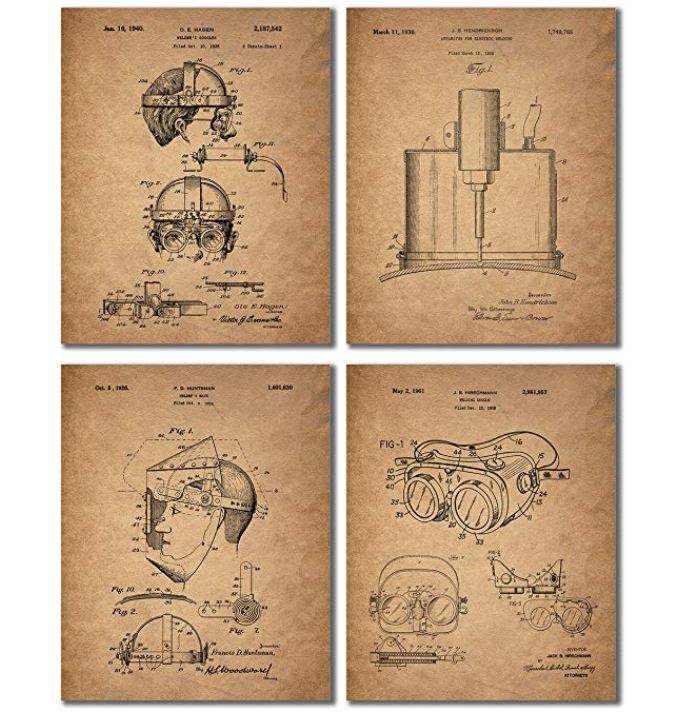 6. Custom Welding Helmet
A welding helmet is one of the essential pieces of safety equipment to wear when welding. Of course, the welder you're buying a gift for will almost certainly have one, but getting one with a custom design can be a really amazing gift. There's a lot of incredible custom gifts out there, but we've picked out the Antra welding helmet because it's a really affordable gift that's great value for money. If you want to find other welding helmet ideas look at our welding helmet buyers guide. The Lincoln 3350 is more expensive but is available in lots of cool and unique designs.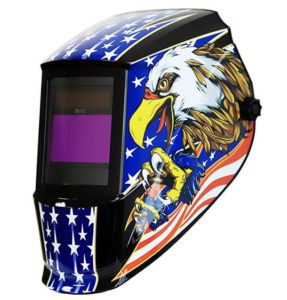 7. Welder Belt Buckle
This belt buckle is a cool jeans accessory just for welders. It's cheap to buy but it doesn't look cheaply made. It's made from pewter and has a solid design. It weighs 72g, the dimensions are 3.1×2.3in and it fits on belts up to 1.5in wide so it will fit on most belts. We like the silver design but there's also an option to choose it in gold color if you prefer.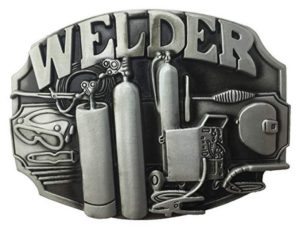 8. LEGO Welder Mini Figure
LEGO Minifigures are a fun little thing to have around, especially if you already have some LEGO in the house. Kids always love LEGO but this is also a cool gift for any welders who used to play with LEGO as a kid. This figure stands at around 2 inches tall and comes with all the features of a welder, including helmet, torch, apron and gas cylinder.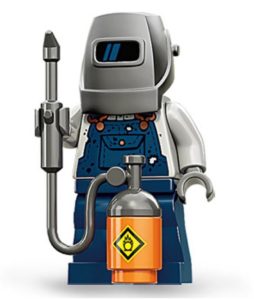 9. Welding Toolbox Stickers
This set of welding stickers includes 20 different humorous designs that are great to stick on whatever toolboxes, welding hoods or other suitable welding equipment is lying around the workshop. These 100% vinyl stickers are meant to last and won't be damaged easily because they're waterproof and UV resistant.