Hobart Handler 140 Review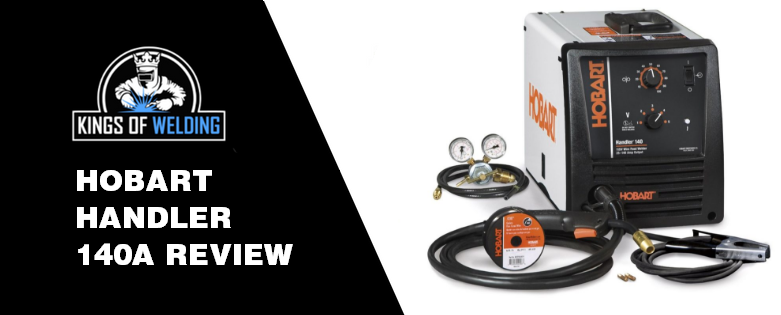 Overview
The Hobart Handler 140 is the most popular Flux-cored/MIG welder manufactured by Hobart. It is a reliable choice for a range of auto body and household welding projects and is great value for money. It's stood the test of time now, and there are plenty of welders who have relied on this for years without having any problems. The 140 is ready for welding right out of the box and includes a number of accessories including a spool of flux core wire, a 10 foot MIG gun, and a regulator with gas hose. You just need your safety equipment and gas cylinder and you're ready to start MIG welding.
 

| | |
| --- | --- |
| Brand | Hobart |
| Model | Handler 140 |
| Process Type | Flux Core/MIG |
| Amperage Range (A) | 25-140 |
| Duty Cycle | 20% @ 90A |
| Input Voltage (V) | 115 |
| Weld Thickness | 24ga. – 1/4 in |
| Weight (lb) | 57 |
| Dimensions (in) | 12.4 x 10.6 x 19.5 |
| Wire Feed Speed (IPM) | 40-700 |
| Full specs | Specifications |
Usability
With this welder you can easily MIG weld thinner materials including stainless steel, steel, and aluminum, and with the flux-cored function, you can weld thicker stainless steel or steel materials up to 1/4 inch. One of my favourite features is the infinite control on the wire feed speed so you can easily make fine adjustments.
Power
The welder has a maximum power output of 140A. This offers the duty cycle of 20% at 90 amps which is more than enough for almost any household project. I've used this welder for motorcycle exhausts, fence work and auto body work and it is a joy to use. The 140 runs on a low input voltage of 115v, so you can use it anywhere you find a power plug.
There are 5 different voltage settings which allow you to weld up to 1/4 inch steel on the highest setting. Move it down to other settings based on what gauge you're looking to weld, 24 gauge is best on the lowest setting and 16 gauge on the 2nd setting. There's a door chart on the inside of the machine which makes it really straightforward to select the right settings.
Transport
The 140 weighs 57 pounds which means it is relatively easy to move about and an appealing option for hobby welders. To get the most ease when transporting it I recommend putting it on a wheeled cart which will make it easier to move and give you somewhere to store your gas cylinder. The power cord is only around 5 foot and it would help if it was a bit longer, but it's still reasonable.
Price
The Hobart Handler 140 is probably the best bang for your buck MIG welder you can buy. It's really cost effective for all the features that are included. It also comes with Hobart 5/3/1 industrial warranty, so if any of the parts break down then you will receive a repair or replacement free of charge.
Features
Wire drive system made of industrial cast aluminium
A chart to help choose settings.
There is a 5 position voltage control
Sloped control panel
10 foot MIG gun
Two gauge regulator
5-foot gas hose
Advantages
Infinite control on wire feed speed.
5 position voltage control selector, which gives the user the scope to help achieve a smooth arc on different thicknesses.
Ideal for a range of DIY projects including exhausts, auto body panels, gun racks, tool carts, metal sculptures, garden equipment, and more.
Easy to group and use: This welder takes just several minutes to arrange and get it ready to weld even for a beginner welder. A complete guide is available on the inner page of the cover to help you configure the welder correctly.
Fantastic quality Arc performance
Built-in safety features: Apart from the versatility offered by this welder device, this also comes with a range of built-in safety features to help ensure you use this welder safely. The 140 mainly comes with a thermal overload system to help offer protection to the user in case of a high surge of electricity.
Disadvantages
The power cord is only around 5 foot, it could be a bit longer.
This welder is only meant for smaller-medium size projects
If you're regularly moving the welder you may need to invest in a wheel cart.
Video Review
 Who Should Buy This?
I love this welder as it's so easy to use even for the inexperienced welder so it's a great choice for "hobbyists" and smaller metal projects. We rated this is the top rated welder for beginners, but that doesn't mean you gave to shy away if you're a professional. The 140 packs some power, it's super reliable and produces quality welds. It certainly has the capabilities to help you achieve some stronger welders on thicker metals. If you're looking for a reliable welder that's excellent value, easy to set up and is suited for less industrial projects then I highly recommend the Hobart 140.
Value

Power

Build Quality

Features

Performance