Hobart Handler 210 MVP Review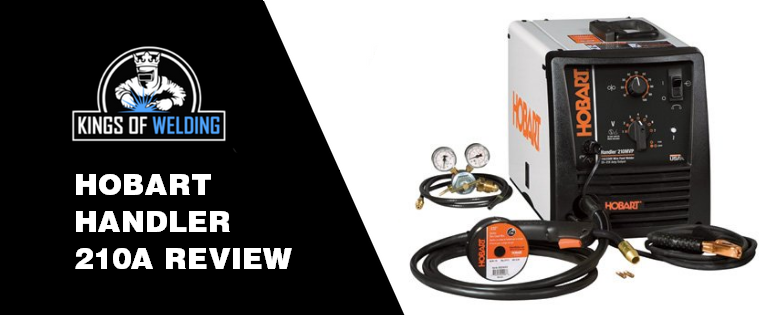 Overview
The Hobart Handler 210 MVP is a MIG/Flux Core welder and is the only Hobart welder which can run 210A of power in a portable case. With this welder, Hobart keep up their reputation of creating powerful, reliable machines suitable for a wide range of applications.
Specifications:
1. Brand name: Hobart
2. Model: Handler 210 MVP
3. Height: 12 – 3/8 in.
4. Length: 19 – 1/2 in.
5. Width: 10 – 5/8 in.
6. Duty Cycle: 20% @ 90A
7. Input Voltage: 115/230 V
8. Process Type: Flux Core, MIG
9. Product weight: 79 lb.
10. Weld Thickness: 24 ga. – 3/8 in.
11. Wire Feed Speed Range: 40-680 IPM
12. Welding Amperage Range 115V:  25-140 A
13. Welding Amperage Range 230V: 25-210 A
Usability
The 210 is ready to use right out the box and can weld 24 gauge right up to 3/8 inch mild steel in single pass. The 210 can be used for a range of applications including auto body, construction, boats and household repair jobs. The infinite wire feed speed control helps you to achieve maximum control for high-quality arc performance with less cleanup and spatter.
Power
The MVP is designed for maximum versatility to help you achieve high-quality welds and one of the best features of the welder is that it allows you to easily attach two separate input voltage receptacles. It will run off a regular wall voltage and if you unscrew in and swap it over to run off 230v. Here you can select 7 different voltage positions for 230V and 4 different voltage settings for 115V. The Hobart 210 has a power output ranging from 25A to 210A at 230V and 25A to 140A at 115V. This offers a duty cycle of 20% at 90A (115V) and 30% at 150A (230V).
Transport
The Handler 210 weighs 79 pounds making it a heavy piece of equipment, if you purchase this welder then you will probably need a wheel cart to help transport it about. This will also give you room to store all your cables and gas cylinder.
Price
It's a lot cheaper than the 230 and isn't a million miles away in terms of performance. Considering all the features and its power, it's a good price. It also comes with Hobart 5/3/1 industrial warranty, so if any of the parts break down then you will receive a repair or replacement free of charge.
Features
Weld set up chart and guidelines to help select settings.
Cast aluminium drive system
115V and 230V multi-voltage plug for power source flexibility.
7-position voltage control at 230V
4-position voltage control at 115V
Sloped control panel
10-foot MIG welding gun
Dual gauge regulator
5-foot gas hose.
Built-in safety features including thermal overload and motor protection.
Internal storage area
Advantages
Infinite control on wire feed speed.
Ideal for a range of projects
Quick release tension for easy changeovers
Disadvantages
Very heavy and usually requires a cart.
Video Review
 Who Should Buy This?
If you're looking for one of the best welders under $1000, this is one of the choices available. If you're looking for a similar power welder with better features then take a look at the the Millermatic 211.
Value

Power

Build Quality

Features

Performance