Lincoln Electric K2185-1 Handy Mig Review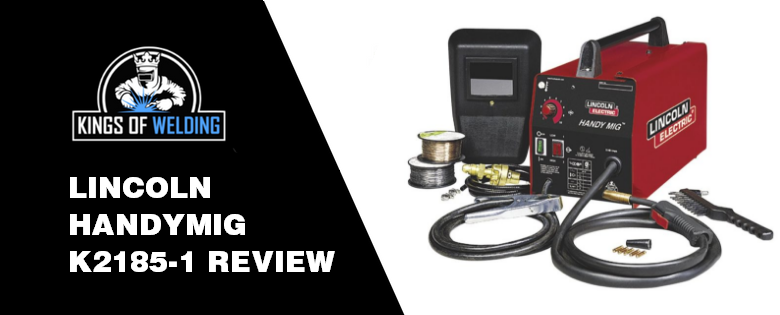 Overview
The Lincoln K2185-1 Handy Mig is a popular flux-cored/MIG welder that's perfectly suited for hobby welders and small welding jobs for welding steel up to 1/8 inch. It's popular for beginners as it's fantastic value and easy to carry, but the reliability and durability of this device means that it's also used by experienced welders who simply don't require more power.
Specifications:
1. Brand name: Lincoln Electric
2. Model: K2185-1 Handy Mig
3. Height: 12.8 in.
4. Length: 18 in.
5. Width: 8.8 in.
6. Duty Cycle: 20% @ 70A
7. Input Voltage: 115 V
8. Process Type: Flux Core, MIG
9. Product weight: 46 lb.
10. Weld Thickness: 24 ga. – 1/8 in.
11. Wire Feed Speed Range: 0-300 IPM
12. Welding Amperage Range: 35-88 A
Usability
The K2185-1 is capable of MIG and flux-cored welding and is designed for home repair projects and light gauge mild steel from 24 gauge up to 1/8 inch.
It's a user-friendly device that's simple to use, but because of its price, you don't have any of the features of more expensive welders, such as an increased number of voltage settings or infinite wire feed speed control.
Power
It has a maximum output amperage of 88A, making the Handy Mig one of the lowest power output welders that's suitable for quality welds in a small workshop. There are 4 different voltage settings to choose from, selecting the highest voltage setting will enable you to weld the thickest metals. There's a chart on the inside of the welder to show you which settings to select based on the metal thickness. The K2185-1 has a duty cycle of 20% at 70 amps.
The welder runs on a low input voltage of 115v, which means it's compatible with your common indoor power outlet, however, this will not be compatible with the more powerful remote site power outlets.
Transport
One of the best things about the Handy Mig is that it's compact and lightweight which makes it easy to transport. There's a solid handle attached to the top of the machine to help you pick it up, and it weighs just 46 lbs so it's not too heavy to carry around your workshop.
Price
The k2185-1 great value for money especially for any beginner welders. For a very affordable price you'll get the welder and almost all the extras you need before you can start welding.
Some welders on the market which are in the lower price range start falling apart after a couple of years, but what's great about this is that this machine is durable. I've known people who have had this machine almost 10 years and they're still in great condition, which is a testament to the quality of Lincoln (which is why they've been an established company for over 100 years!).
Lincoln only offer a one year warranty on this model, but you can feel safe with their reputation for quality that you'll have a reliable machine.
Features
Cold contractor safety feature designed to keep the wire cold.
Fan cooling system to prevent overheating.
4 voltage settings
Indoor chart to help select settings
Many extras including a welding gun, cable, clamp, gas regulator, gas hose, spool of wire and more.
Continuous wire feed speed adjustment
Advantages
Very affordable and good value for money.
Really durable with solid mechanisms.
Lightweight and highly portable.
Disadvantages
Can only be used on thin metal up to 1/8″ which could be restricting
Limited control panel options with just 4 voltage settings.
Who Should Buy This?
The Lincoln K2185-1 Handy Mig is an excellent choice for anyone who only wants to weld up to 1/8″ steel with MIG or flux-cored welding. If you think there's a chance you'll weld something more powerful, I'd say don't risk it and increase take a look at the 140A welders. You can always turn a more powerful welder down but you can't turn the Handy Mig up. But if you know you'll focus on home projects up to 1/8″ and want something durable, then this is my number 1 recommendation, it's a quality product which is easy to carry and you can get the whole package at an outstanding price.
Lincoln Electric K2185-1 Handy Mig
Value

Power

Build Quality

Features

Performance