AHP AlphaTIG 200X Review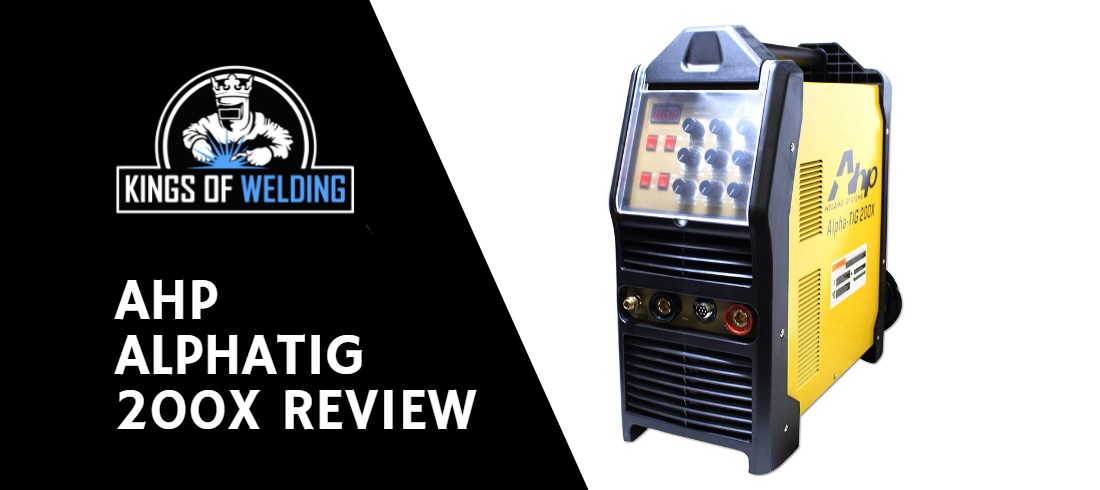 Overview
The AHP AlphaTIG 200X is a quality but affordable machine that's great for TIG welding aluminum, stainless or steel and also stick welding. There are some cool features with this unit and you'll struggle to find a better value TIG welder out there that gives such good quality results.
Specifications:
1. Brand name: AHP
2. Model: AlphaTIG 200X
3. Height: 22 in.
4. Length: 20 in.
5. Width: 9 in.
6. Duty Cycle: 60% @ 200A (TIG), 35% @ 155A (Stick)
7. Input Voltage: 110/220 V
8. Process Type: Stick, TIG
9. Product weight: 50 lb.
10. Weld Thickness: 24 ga. – 3/8 in.
11. Wire Feed Speed Range: 15-360 IPM
12. Welding Amperage Range: 10-200 A
Usability
The Alpha TIG 200X is a excellent, versatile unit that's pretty straightforward to use. It's great for welding stainless and aluminum, and it's really simple to switch between AC/DC with the button on the front of the machine. I love TIG welding with this as it creates an unbelievably smooth arc. It also creates excellent quality welds on aluminum (if you've got the skill!), and definitely performs better than some more expensive machines I've used. In stick mode, it will weld 7018, 6013 and other common rods.
It's primarily a TIG welder but you can also stick weld with this to give you another option when TIG isn't appropriate e.g. outdoors or you don't need the quality of TIG. Even though stick isn't it's main purpose, the results are excellent; the arc is smooth and there isn't too much spatter.
There's some great options on the front of the 200X for the price, such as pulse frequency and a 2T/4T switch for if you need to weld out of position with a foot pedal. All of the options on the front of the unit might be overwhelming to an inexperienced welder, but they're not hard to learn if you look at the instructions. There's also a digital amperage display which will show your output amperage during a weld.
Power
The AHP AlphaTIG 200X is a dual voltage welder, so you can run it on either 110v or 220v which makes it useful if you're new to welding and don't have a generator, or if you just want to be able to use it in multiple locations more easily. It's really easy to change between them you just have to switch the plug over.
What I love is that it welds on 110v just as good as 220v (without getting the same power). But you can still get a lot of power out of 110V, and it goes up to 140A output and runs a smooth arc. The overall output range is 10-200A so it's versatile and powerful and it will weld up to 1/4'' aluminum to 3/8'' mild steel.
It addition to this, it has a duty cycle of 60% @ 200A for TIG and 35% @ 155A for Stick, so you can get a lot of welding time in without overheating.
Transport
The machine weighs 50lbs, so it's not too heavy to carry. The 110v option also makes this is a great machine for portability because you can carry it and use it at any regular household power supply. This is especially useful if you don't have a generator yet or think you'll be working in lots of different locations.
The Alphatig achieves this low weight by using advanced inverter technology. This includes IGBT technology to control power consumption and Pulse Width Modulation to allow greater control of pulse settings.
Price
What's great about the Alphatig is that it's available at a really reasonable price. It's well under $1000 and I don't think there's a better AC/DC TIG welder for the price on the market.  It welds with a quality that I'm used to seeing in much more expensive units. What makes the cheaper is that AHP are a newer company without the reputation of giants like Miller and Lincoln. Some people might not feel safe buying from a a less well-known manufacturer, but this model has been on the market for a few years now and they're standing the test of time. Also, it does come with a 3 year warranty from the purchase date, so any fault units will be either repaired or you will receive a new working model.
Features
Advanced Inverter Technology with PWM (Pulse Width Modulation) Using IGBT technology

14ft WP17 TIG Torch
9ft Stick Holder
9ft Ground Clamp
Argon Regulator
Foot Pedal
110v Plug Adapter
2T/4T function
Start and end amps adjustment in 4T mode
NEMA 6-50 Plug wired on cord end
140A output on 120v
200A output on 240v
HF start TIG
Advantages
Excellent arc quality
Versatile, you can use it for TIG and stick and it's dual voltage
Great value for money!
Portable (weighs 50lbs)
Disadvantages
Front panel options may be confusing for a beginner welder.
The fans are a bit on the noisy side
The footpedal isn't the best, it feels a bit stiff to control and slippy on the floor.
AHP have had a reputation in the past for not being as quick to reply to customer services as some of the bigger companies.
 Who Should Buy This?
This is a brilliant unit if you're a hobby welder and aren't looking to invest too much money but want to achieve quality welds. It's easy to set up and all the settings are explained simply in their user manual. It's a versatile machine, you can either use stick or TIG at a 110v or 220v power supply, helping you choose the most appropriate method for your situation. The value for money on this machine really is excellent, so I also recommend this as a backup welder to any professionals to produce great quality welds if you main machine breaks.