Forney 318 190A MIG Review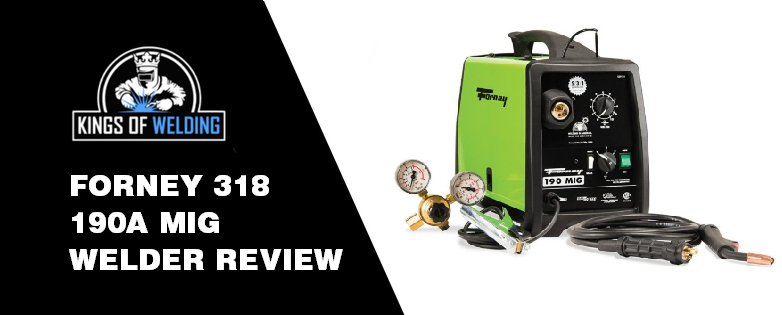 Overview
The Forney 318 is simple to use and reliable, without having many extra features. It's the perfect choice for anyone looking for a simple welder for light industrial projects up to 3/8″ in single phase and is well suited for a range of ranch, automobile and general home welding projects.
Specifications:
1. Brand name: Forney
2. Model: 318 190A MIG Welder
3. Height: 19 in.
4. Length: 16.5 in.
5. Width: 9.5 in.
6. Duty Cycle: 25% @ 120A
7. Input Voltage: 230V
8. Process Type: Flux Core, MIG
9. Product weight: 63 lb.
10. Weld Thickness: 24 ga. – 3/8 in. – Single Pass
11. Welding Amperage Range: 35-190 A
Usability
The Forney 318 is capale or MIG and flux-cored welding. Forney have made this welder a solid piece of equipment by integrating a top quality wire feeding system that's made of cast aluminium with a drive roll and improved despooler. The machine also comes with a euro-style disconnect gun so you can quickly remove the torch in just a few seconds. It can weld mild steel, stainless steel, mild and stainless steel, aluminium and cast iron from 1/16 inch up to 3/8 inch
Power
The Forney 318 uses a 220V input power which is an increase from up from the 110V Forney 309 which allows it to reach that higher power output of up to 190A. It's got decent power but doesn't compare to many of the other 220V welders which are much more powerful. The duty cycle is 25% at 120A which is OK but there are better options out there if you're looking for a good duty cycle.
There are six different voltage settings on the front panel to choose the wire thickness. This is two more than the Forney 309 and the two additional settings allow up to 3/8 inch metal thickness. On the inside of the case there's a chart to help you choose your settings if you're unsure.
Transport
The machine weighs 63lbs, and has a handle on top to carry this. However, foro many users this will be a bit on the heavy side and you'll need a cart to transport it around on.
I really like the 15-foot long power cable on this machine and it also comes with a the 10-foot MIG gun. This gives you a really large potential work area which can be quite useful if you're not restricted to a small area.
Price
The Forney 318 is a reliable unit so worth the money as they're proven to stand the test of time, unlike the cheap Chinese welders. It's one of the cheaper 190 welders, but it's still worth comparing the prices of similar welders as there are others with better features such as wire feed control or better duty cycle which can be found for a very similar price.
The welder also comes with the 5/3/1 Forney warranty which means that there's warranty on the parts for 5, 3 or 1 year depending on the part. Visit their website to find the full details.
Features
Euro type connector which to help you to save time.
6 voltage settings
15-foot long power cable
Door chart to help select settings
Torch wrap included
Torch with built in strain relief
Wire feed system is made of cast aluminum.
Larger size cabinet to allow easy access to both 4″ and 8″ spools."
10 foot MIG gun
Regulator included
Advantages
Aluminium wire feed system to help you achieve a smooth and stable arc
Durable and reliable
Simple design that's easy to use and quick to setup
One of the cheaper 190A welders.
Disadvantages
Not as many advanced features as other 190A welders
Not as powerful as other 230V welders
Relatively low duty Cycle
Video Review
 Who Should Buy This?
This might be a 220V but it's by no means a beastly powerful welder. What it is, is a reliable, no nonsense piece of equipment that's a pretty good price. Forney aren't as big a name as the Lincoln and Millers but I really can't fault this piece of kit. If you're looking for something that's simple and will stand the test of time for farm, ranch, home or automobile jobs but without welding anything too thick, this is definitely worth it.
Value

Power

Build Quality

Features

Performance