Hobart Handler 190 Review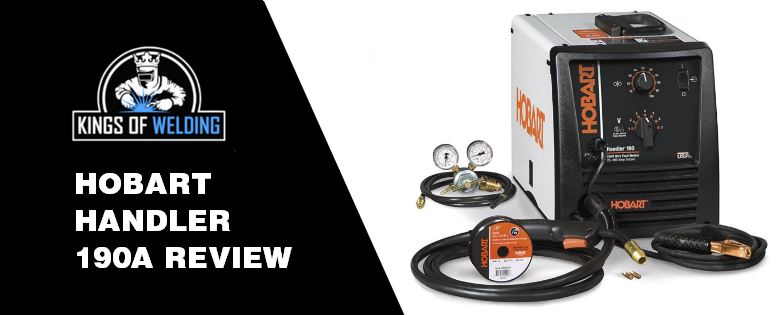 Overview
The Hobart Handler 190 is a MIG/Flux Core welder which is a more powerful option than the 140. It's one of the most popular welders on the market, as it's powerful, super reliable, easy to use and has several great features.
Specifications:
1. Brand name: Hobart
2. Model: Handler 190
3. Height: 12 – 3/8 in.
4. Length: 19 – 1/2 in.
5. Width: 10 – 5/8 in.
6. Duty Cycle: 30% @ 130A
7. Input Voltage: 230 V
8. Process Type: Flux Core, MIG
9. Product weight: 68 lb.
10. Weld Thickness: 24 ga. – 5/16 in.
11. Wire Feed Speed Range: 40-700 IPM
12. Welding Amperage Range: 25-190 A
Usability
This is quite a powerful welder which allows you to easily weld mild steel, stainless steel, and aluminum from 24 gauge right up to 5/16 inch across a versatile range of voltage settings. There are 7 voltage settings which allows for even more flexibility to make sure you get the highest quality weld for your needs. There's a door chart on the inside of the machine which makes it really straightforward to select the right settings.
Power
The Hobart 190 has a power output ranging from 25A to 190A. This offers the duty cycle of 30% at 130 amps which gives it a decent amount of power. The welder can be used for a range of DIY projects and is perfectly capable of welding some thicker materials. The 190 also has an input voltage of 230V, so it is an option for remote sites with a generator.
Transport
The 190 weighs 68 pounds which means it's not too heavy to carry, but I recommend putting it on a wheel cart to make life easier and give you room to store your cables and cylinder.
Price
This welder is good value for the combination of control, quality and power that this welder helps to produce. It's a bit more expensive that the 140 but has more power and more output voltage settings. It also comes with Hobart 5/3/1 industrial warranty, so if any of the parts break down then you will receive a repair or replacement free of charge. One of Hobart's greatest strengths is the dedication to customer support.
Features
Wire drive system made of industrial cast aluminium
Weighs just 68 lbs
Door chart to help select settings.
7-position voltage control
Sloped control panel
10 foot MIG gun
Two gauge regulator
5-foot gas hose
Advantages
Infinite control on wire feed speed.
7-position voltage control selector, to create the highest quality arc on a range of different thicknesses.
Ideal for a range of DIY projects including exhaust systems, auto body panels, trailer frames and hitches, metal sculpture, garden equipment, PTO attachments and more.
Quick release tension for easy changeovers
Even beginner welders can use this welder, the guide that comes with the 190 is really helpful and it takes just minutes to set up.
The 190 also comes with a selection of built-in safety features to help you use the device safely including self-resetting thermal overload and motor protection.
Disadvantages
This welder is powerful but not suitable for the heaviest industrial work.
Not suitable for a household power supply, requires 220v outlet
More expensive than some other brands
Video Review
 Who Should Buy This?
A good choice for those looking for a powerful welder but doesn't need to perform the heavy industrial tasks. If you're concerned that the 140 won't pack enough punch, this is definitely a wise choice. If you're unsure whether to get this or the 140, I always say you can turn the 190 down but you can't turn the 140 up. However, please note that you will need a 220v plug to use the 190.
Value

Power

Build Quality

Features

Performance