Hobart Ironman 230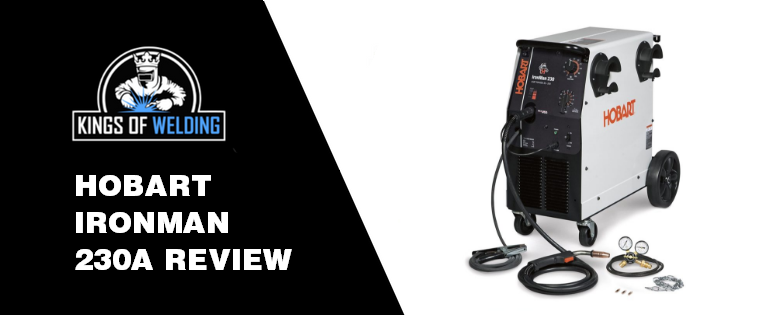 Overview
The Hobart IronMan 230 MIG Welder is a professional welder with fantastic arc quality and which helps minimize spatter and make post weld cleanup much easier. This welder is one of the best to break the struggle between voltage control, arc quality, value and dry cycle and is suitable for both flux-cored and MIG welding. It also comes with built-in running gear and a cylinder rack to store your cylinder. Hobart make quality and reliable welders and this one doesn't disappoint. Whether you're a hobbyist or a professional, this welder is one of the best around.
Specifications:
1. Brand name: Hobart
2. Model: Ironman 230
3. Height: 31-1/2 in.
4. Length: 36-1/2 in.
5. Width: 19 in.
6. Duty Cycle: 60% @ 175 A
7. Input Voltage: 230 V
8. Process Type: Flux Core, MIG
9. Product weight: 185 lb.
10. Weld Thickness: 24 ga. – 1/2 in. – Single Pass
11. Wire Feed Speed Range: 0-700 IPM
12. Welding Amperage Range: 30-250 A
Usability
This welding device is unmatched in its category and it is capable of comfortably welding mild quality steel, aluminum and stainless steel metals up to ½ inch thickness in a single phase. The unit also has twelve different settings so you can easily control the thickness down to 24 gauge sheet metal and you have fantastic control of wire feed speed. The superior arc quality of this unit delivers spatter-free and precise welds, and I would go as far as to say that this welder is the best quality 230V MIG welder on the market under 250A.
Power
The output of this device ranges from 30A to 250A, so it's a great choice for both hobbyists and professionals. It offers 60% duty cycle at 175A so it's got a lot of power. The device needs the input power of 230V to operate, so it's more suited for the industrial sites and not really applicable for the household jobs as it won't operate on the normal outlet of a household power supply, but it is a strong choice for if you're operating from a garage or large workshop.
Transportation
This welder is quite heavy (almost 185 pounds), so this device can't be moved around easily. Therefore, this welder is not recommended for outdoor sites, and it's also worth noting that this is not compatible with generators. It does have wheels, but these aren't designed for rough grounds so it could be troublesome.
Price
The Hobart Ironman 230 is quite expensive, but if you're serious about achieving quality welds then it's worth every cent. The welder has some quality features which is perfect for professional welders, but might be out of the price range for some. One bonus is that the device comes with Hobart Handler's 5/3/1 warranty which will protect your investment if parts are to break.
Features:
The 12 voltage settings of this device allows for maximum control and smooth arc
It includes a heavyweight cabinet
Two cable hangers fixed to the side.
Infinite wire feed speed control meant for precise weld bead shape and adjustment of penetration
Automatic alignment wire
Inside door chart for reference to help you set it up correctly.
Hinged door offers easy entry to the wire drive structure which makes drive roll and spool changes easier.
Reversible drive rolls, one drive roll includes two grooves for two wire sizes that decrease both change over time and spare parts
This welder can deliver 0 – 700 IPM wire feed speed
15-foot Mig gun for extra reach.
Two gauge regulator and gas hose
Inbuilt fan to help reduce power consumption.
Advantages:
This welder is incredibly durable and will last you a very long time.
It comes complete and ready for use at the time of purchase.
It is capable of welding thicker metals compared to other similar welders.
It has the widest range of power output compared to other similar welders.
Overload protection to protect from overheating.
Can weld 24 ga. up to 1/2 in. mild steel in a single pass
Disadvantages:
The welder is heavy and not easy to transport.
It's a relatively expensive MIG welder.
Inability to operate on a standard household power supply outlet.
Video Review
Who Should Buy This?
The Hobart Ironman 230 was designed with welding professionals in mind but is easy enough to use for hobby welders who are looking to take a step up with a more powerful welder. Every feature of this device enables the welder to customize his/her workflow to set it up to exact specifications, so it's a good choice for people who have some experience in welding. I highly recommended this welder for use in light industrial capacities as well as in workshops.
Value

Power

Build Quality

Features

Performance